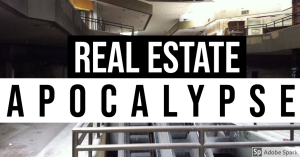 In many mall settings, there are 'core' retailers and then additional stores that set up around them. When a 'core' retailer leaves, it can destroy an entire shopping center. This is a major problem with COVID-19, as due to a long-term combination of debt, income decline, and business closures due to the virus, many stores have seen sharp declines in revenue, including 'core' stores. Nordstroms retailers, which is one of those stores, has recently announced according to Zero Hedge that because of the decline in income, they are telling their landlords to wait until next year before they start paying full rental income again, and only to expect half the amount for now.
Nordstrom June 3 notified landlords of its full-line and off-price Rack stores that it will pay only half the occupancy costs for the remainder of the year, according to a letter from President of Stores Jamie Nordstrom to property owners, which was obtained by Retail Dive. A Nordstrom spokesperson didn't immediately respond to Retail Dive's request for more information or comment.

In the letter, the company also said it will use store comps as the basis for any "true up rent payment, up to a full reconciliation should 2020 sales reach 90% of sales made in that location in 2019." The department store said it "will continue to maintain insurance coverage, pay utilities on which we are the account holder, and maintain your building(s) as required by the lease."

Separately, Nordstrom on Wednesday confirmed that it's "realigning and reducing our workforce to support our market strategy, including in our corporate support teams." The layoffs are part of a 20% reduction "to non-occupancy related overhead expenses," a spokesperson told Retail Dive in an email, but declined to say how many people are affected. Sourcing Journal last week, citing unnamed sources, said plans are to cut up to 25% of its workforce. Those don't include layoffs at the 16 stores slated for permanent closure, according to that report. In 2019, the retailer employed about 68,000 full- or part-time employees.

…

"COVID-19 has had a very real impact on Nordstrom, accelerating the importance of our market strategy and capabilities we've invested in for years," the Nordstrom spokesperson said Wednesday, noting the company's recent permanent store closures and executive salary cuts. "Our new operating model helps us serve customers across our business as one company, while enabling us to be more agile and flexible. We'll continue to invest in critical capabilities across technology, data analytics and supply chain to deliver for our customers."

But with its outreach to landlords, the company is flirting with litigation, warns Nick Egelanian, president of retail real estate firm SiteWorks​. Simon Property Group, Brookfield and others in recent weeks have gone to court to force rents out of their retail tenants. Nordstrom's letter was sent out en masse "apparently with no forewarning or prior discussion," Egelanian said.

Along with ominous signs of the depth of Nordstrom's struggles — including the pullback of its fleet and under-merchandising in some locations that Egelanian said has been part of an effort to cut costs and stem losses at those stores — the letter was an inelegant attempt at negotiation, he said.

"Many landlords, apparently unimpressed with the company's slipshod approach to rent reduction and generally less enamored with a company once considered the gold standard in service and apparel retailing, are opposing Nordstrom's action vigorously," he told Retail Dive in an email. In addition to possibly heading to court with its landlords, Nordstrom "has become the subject of wide-spread speculation that it could end up in Chapter 11 bankruptcy reorganization before the story of the pandemic is fully written." (source)
This is interesting, since if major stores cannot pay their bills, not only does it affect businesses, but can cause major problems for the entire real estate industry, which is something that I have discussed on Shoebat.com before, since many of the properties are leveraged with credit and a decline in rental income affects the ability of the renters to pay their mortgages, which then could push mall properties or other major developments into bankruptcy, which in turn causes backups in the courts.
Years ago, the "Rent Is Too Damn High" party with Jimmy McMillian made waves at the Gubernatorial debates, and while it was a masterful public act of comedy, it also illustrates a real point- the rent is too high in proportion to actual versus perceived values of property, income, assets, and real value, but because of the binding of major loans to said values at said overvalued rates, it works well when things seem to be fine, but when problems appear, there is no room for tolerance outside of the established norm, and it leads to financial problems and even bankruptcy.
The entire US economy is built on a "house of cards" supported by debt. If those debts were to collapse, and they are in the process of doing that right now, then it triggers a series of defaults on all kinds of loans, of which the retail and real estate markets are highly vulnerable to shocks.
The Nordstroms situation will be interesting to watch, because it is representative of many other major retailers right now, and if they have more serious problems, such as especially those which would be caused by a second wave of the virus, it would mean certain disaster for many malls, shopping centers, and a lot of the real estate market.