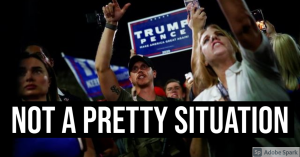 This election continues to get more interesting. According to a story from The Independent, Trump supporters are now marching on ballot counting locations out of frustration with the current state of ballot counts.
aricopa County in Arizona has closed its ballot-counting facility to the media and the public amid safety concerns as supporters of Donald Trump — many of them armed — gathered outside the building, several reporters on the ground have reported.

But poll workers will continue to count ballots and report results amid the developing demonstration outside.

"Staff at the @maricopacounty Elections Department will continue our job, which is to administer elections in the second largest voting jurisdiction in the county," the Maricopa County Elections Department tweeted in a statement late on Wednesday.

"We will release results again tonight as planned. We thank the [Maricopa County Sheriff's Office] for doing their job, so we can do ours."

Arizona GOP Congressman Paul Gosar was pictured among the crowd gathered outside the building.

The protesters in Maricopa County, some of whom were waving Trump flags, have been chanting "Fox News sucks!" and "Count the votes!" for hours.

Fox News and several other media outlets had called the Arizona presidential race late on Election Night for Democratic presidential nominee Joe Biden, but the margin has tightened substantially as mail-in ballots favouring Mr Trump have continued to roll in through Wednesday. (source)
The show goes on.