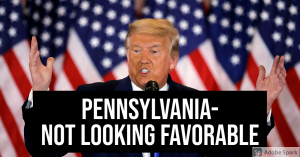 In another setback to Trump's hold on the presidential office, Pennsylvania courts have rejected his request to toss 'flawed' ballots according to Zero Hedge.
Republicans in Northampton County, Pennsylvania, lost a court bid to block the local elections board from disclosing identities of voters whose invalid mail-in ballots were cancelled on Nov. 3, one of several lawsuits filed in the state The Northampton election board provided the names to both the Democratic and Republican parties so they could alert the voters and suggest they vote in-person by provisional ballot.

The court denied complaint brought by state GOP officials, saying the state was already doing enough on its own to make sure the flawed or provisional ballots are separated.

Pennsylvania Lieutenant Governor John Fetterman, a Democrat, appeared on CNN and proclaimed that Biden's margins in the state are going to "continue to grow" and insisted that all the ballots had been legally counted. He also muttered this memorable line about Trump having the ability to "sue a ham sandwich". (source)
If Trump loses Pennsylvania, he can kiss the election goodbye, because even if Arizona and Michigan or Wisconsin come out favorable for him, it is very unlikely that he can get the votes to win.
Given his rejection for similar requests today in Georgia, things are not looking well.