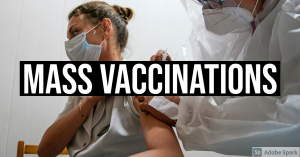 Russia claimed to be the first nation to have developed a COVID vaccine, called- in a name that is a curious throwback to the Soviet period -the Sputnik V. Now according to Live Mint, Russia is preparing, per Putin's order, to have mass vaccinations.
Russian President Vladimir Putin on Wednesday ordered authorities to begin mass vaccinations with the Sputnik V vaccine against the novel coronavirus from next week as the country recorded 589 new daily deaths from Covid-19.

"Let's agree on this – you will not report to me next week, but you will start mass vaccination … let's get to work already," Putin reportedly told Deputy Prime Minister Tatiana Golikova.

Golikova said large-scale vaccination could begin on a voluntary basis in December, reports news agency Reuters.
Russian Health Minister Mikhail Murashko has said that over 100,000 people had already been vaccinated against Covid-19, as Moscow presented its Sputnik V vaccine to the United Nations over video link.

Putin reportedly told health officials to start widespread vaccinations next week, adding that Russia has produced close to 2 million doses of its Sputnik V vaccine.

The Russian President also said, "I would ask you to organise the work so that by the end of next week we will have started this large-scale vaccination." Putin noted that teachers and medics will be the first to receive the jab.

Putin's statement comes hours after the United Kingdom approved the Pfizer-BioNTech coronavirus vaccine for use and said that it will be rolled out from early next week.

Earlier, Russia had announced that the Sputnik V coronavirus vaccine has 95% efficacy. President Putin had ordered authorities to begin mass voluntary vaccinations next week.

Sputnik V — named after the Soviet-era satellite — is in its third and final stage of clinical trials involving some 40,000 volunteers.
Few days back, Dr. Reddy's Laboratories Ltd. and the Russian Direct Investment Fund (RDIF) had announced commencement of adaptive Phase 2/3 clinical trials for Sputnik V in India after receiving necessary clearance from the Central Drugs Laboratory, Kasauli in Himachal Pradesh.

The rise in coronavirus cases has slowed since reaching a high on 27 November, with 25,345 new infections reported on Wednesday. Russia has resisted imposing lockdowns during the second wave of the virus, preferring targetted regional curbs.

With 2,347,401 cases, Russia has the fourth-largest number of coronavirus cases in the world behind the United States, India and Brazil. It has recorded 41,053 deaths related to Covid-19 since the start of the pandemic. (source)
Something, however, seems wrong with this, and others also have pointed this out, because the claims do not seem to make sense against the broader presentation of evidence.
First, we have no proof this 'vaccine' actually works, but only the claims of Russia, who is known to bluff. Where is the evidence other than Putin's words? Proof requires something greater than just speech.
Second, more importantly, is that Putin is ordering 'mass vaccinations' while he himself is yet to take his own vaccine. Ask yourself, why would a 'leader' of a nation do such a thing, especially assuming it is so safe he would order it given to all his people in the nation? Indeed, it could be that he does not believe the vaccine is true, or does not trust its efficacy. As a leader, who sets an 'example' for people to follow, and knowing that Putin enjoys presenting himself doing "manly" things as a leader, now is a time for actual leadership by example, not riding horses shirtless or posing with guns in the wild, and yet, it is curious that he has not had photos of him taking the very vaccine he is touting.
Third, and related to the above question, where are the trials and evidence? There is nothing that has been produced to show this works, and given that major American companies, who have been openly working at making a vaccine have shown nothing save for one company connected to Trump through questionable business deals and claims as questionable as those made by Putin but in an American context, there is no evidence to support any claims at all.
If Russia or another nation has a vaccine, that is great and it should be shared, because health is not a thing to be politicized. That said, there must be proof to back up said claims, and without proof, words are not just words, but tools of manipulation in the hands of people using them to get power while ignoring the welfare of the people they claim to represent. Until proof is established, the best defense is a good offense- to maintain basic health precautions, to use good decision making skills, and to be aware that all pandemics eventually pass, but that while making decisions to deal with the pandemic, also remembering that political changes made in the name of the pandemic will often outlive the illness, and potentially with deadly, even irreversible changes that long-term may kill a society more effectively than any virus ever could.