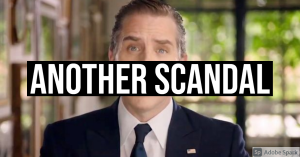 If Joe Biden has been a 'big matter' on the left, then Hunter Biden has been a big deal for the right because of his son's antics. Whether it is forgetting his crack pipe in a rental car, making illegal and/or legally questionable deals with foreign nations for 'business', or taking explicit photos and posting them online, Hunter has developed a reputation for scandalous behavior. However, while right now the assumption is that Biden has 'won' the election, Hunter may have other problems, as CNBC reports that the Department of Justice is formally investigating him for tax misdeeds.
President-elect Joe Biden's son Hunter Biden revealed Wednesday that he is under investigation for his "tax affairs" by federal prosecutors in Delaware.

The probe was disclosed five days before Joe Biden, a former senator from Delaware, is expected to be formally selected as the next president by the Electoral College.

Hunter Biden said in a statement, "I learned yesterday for the first time that the U.S. Attorney's Office in Delaware advised my legal counsel, also yesterday, that they are investigating my tax affairs."

"I take this matter very seriously but I am confident that a professional and objective review of these matters will demonstrate that I handled my affairs legally and appropriately, including with the benefit of professional tax advisors," Hunter Biden said.

Hunter Biden, whose late brother Beau Biden was Delaware's attorney general before he died, did not reveal any other details of the probe.

A spokesman for David Weiss, the U.S. attorney for Delaware, did not immediately respond to a request for comment.

CNN later reported Wednesday that it had contacted Hunter Biden's lawyer and his father's presidential campaign last week seeking comment on the investigation, which CNN reported is "examining multiple financial issues, including whether Hunter Biden and associates violated tax and money laundering laws in business dealings in foreign countries, principally China."

CNN reported that the investigation had been "largely dormant in recent months" due to Justice Department rules that bar taking legal actions in a cases that could affect an election. (source)
Assuming Biden becomes president, it will be interesting to see what comes of this case in how Biden responds to it, since the scandalous deeds with Ukraine and China clearly tie to Joe himself.
Could the potentially be an 'event' that causes Biden to resign and install Kamala Harris as president? Could this be an event that results in Biden's arrest? Will Biden pardon his son and himself? Will nothing come of it at all? No matter what happens, there seems to be no good ending, and the only conclusion that it seems can come from any side is the worsening of the divide between the left and right, with the only question being how severe that divide can become based on the response.
If one thought this past election 2020 was interesting, the next four years will be even more so, as the country is moving into dangerous territory and the increased political divisions only further incline the nation towards political violence.