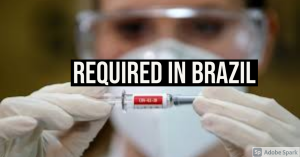 COVID has brought about a lot of concern to many people, but given the rush to push for a vaccine, there are many questions that the public has, and considering how there have been public adverse reactions to such vaccines, it is understandable that people not want to just rush and take something, especially if they do not know the side effects. These concerns have been raised globally.
However, in a major ruling reported on by the Australian WA Today, the top court for Brazil has ruled that all people are to receive a COVID vaccine, and those who do not choose to receive it face a large number of punishment, from the loss of state benefits to physical restrictions on movement an where they can go.
All Brazilians are required to be vaccinated against COVID-19 under the penalty of being banned from certain public services and places, the country's top court has decided.

Ten justices of the 11-member court backed the mandatory inoculation with only one vote against in a virtual session held on Thursday, Brasilia time. The ruling is a blow to President Jair Bolsonaro, who has said he will not be vaccinated and nobody should be forced to.

According to a government statement after the decision, those who fail to prove they have been vaccinated may have their rights, such as welfare payments, public school enrolment or entry to certain places, curtailed.

Mixed messages: Brazilian President Jair Bolsonaro who has said he won't take a COVID-19 vaccine, poses with the mascot of his nation's vaccination campaign, named "Ze Gotinha" or Joe Droplet.

The court underscored the decision did not mean Brazilians would be taken by force to receive shots that will be offered by the government through the public health network.

Justice Ricardo Lewandowski, who voted in favour, said that although vaccination without consent was "flagrantly unconstitutional", "the collective health cannot be harmed by those who deliberately refuse to be vaccinated", the G1 news website reported him as saying.

Vaccines against potentially life-threatening diseases such as measles and meningitis have long been mandatory for children in Brazil and the justices dismissed a separate case seeking to free parents from that obligation due to religious beliefs.

Bolsonaro has promised to make all COVID-19 shots approved by the health regulator available to the public, but at the same time has raised prospects of an ineffective mass inoculation campaign by discouraging Brazilians from participating in it.

"Nobody can force anybody to take the vaccine," he said at an event in the north-eastern state of Bahia after the court's decision. "We're dealing with lives, where is our freedom?"

Brazil has recorded more than 7.1 million COVID-19 cases and lost more than 184,000 people to the disease, including more than 1000 on Thursday, the first time it broke the figure in over three months. More than 46,000 new cases have been detected every day in the past week.

But the number of Brazilians who are open to being inoculated against COVID-19 has declined to 73 per cent in December from 89 per cent in the beginning of August, according to a Datafolha survey. Those who are against taking the shots have risen to 22 per cent from 9 per cent in the same period. The poll firm interviewed 2016 people over the phone between December 8-10. (source)
I have said before, many times, that public health is necessary. It also must be done in a way that respects and does not undermine the rule of law. Unfortunately, a lot of this push to "vaccinate" even against people's will is dangerously close to what I and others have warned about, with COVID being used to force trends and new paradigms on people that will far outlive the effects of the virus.
That is what is happening here, and while it is yet to be seen what will come in the US, if the government can force an individual in the name of the public good to take something that he is seriously opposed to and is questionable, one can only wonder what else he may be forced to do against his will in the future. Since this is a global issue, it is impacting the entire world, and it will be interesting to see the effects this has on travel, commerce, and relationships between nations.