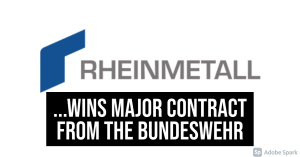 I want to be very clear that I do NOT give financial advice. However, one of the companies I have noted to watch is Rheinmetall because of her relationship with the German government, and given the current trends toward militarism, there is a chance that she might become the prime company involved in driving a revived Germanic war machine. It is thus with interest that the Army Times reports that Rheinmetall just received a ten year contract from the Bundeswehr to supply their tank munitions.
Rheinmetall has secured a framework contract to supply tank ammunition with a combined sales volume of up to €556m to Germany's armed forces, Bundeswehr.

Under the agreement, Rheinmetall will supply up to 203,000 rounds of 120mm × 570mm calibre service and practice ammunition, the kind fired from the main armament of Leopard tanks until to the end of 2028.

Overall, the agreement includes 19,000 rounds of DM11 ammunition, 95,000 DM88 cartridges and 89,000 rounds of DM98 ammunition.

DM11 is a multipurpose tank ammunition capable of detonating on impact (with or without a time delay) or in mid-air as required in operations.

The DM98 is the accompanying full-calibre practice round with comparable ballistic characteristics but with a reduced range.

The sub-calibre DM88 is the practice version of the armour-piercing DM63-KE ammunition used by Bundeswehr.

Rheinmetall has already received a first call-off worth €26.5m to supply 15,000 rounds of DM88 ammunition. The deliveries will be completed by the end of this year.

In a statement, the company said: "This order highlights once again Rheinmetall's position at the forefront of ammunition development and production in Europe. (source)
Watch Rheinmetall closely. Their progress over the years will be interesting to see.