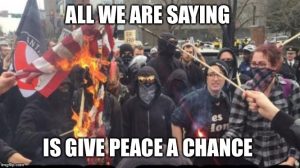 One of the interesting ironies of the January 6th protests was not merely how evidence suggests strongly, as I have pointed out, that the "storming" of the Capitol was directly encouraged by government officials, but that considering how little action actually took place in comparison to what could have, the FBI is taking a very hard stance against those who participated, for as the UK Guardian reports, the FBI has launched possibly the largest investigation in its history, hunting down hundreds of participants across 40 states and making hundreds of arrests.
One month after the events which left five people dead including a US Capitol police officer, there is no sign of the Department of Justice and FBI letting up in their relentless pursuit of the insurrectionists. In the past week alone there have been arrests of alleged rioters in Seattle, Washington; Las Vegas, Nevada; Corinth, Texas; Garner, North Carolina; and Marion, Illinois.

All 56 FBI field offices are engaged in a huge investigation that ranks alongside the biggest the bureau has conducted. As Michael Sherwin, acting US attorney for Washington DC which is leading the hunt, has put it: "The scope and scale of this investigation are really unprecedented, not only in FBI history but probably DoJ history."

David Gomez, a former FBI national security executive who spent years countering domestic terrorism, told the Guardian that the bureau would classify and handle the search as a "major case".

"It is probably one of the largest investigations since 9/11," he said.

Already the number of people who have been arrested, either by the FBI, Capitol police or local Washington DC officers has reached 235, spanning more than 40 states. As the investigation widens and deepens, the focus is tightening on anyone considered to have acted as a coordinator of the action in an attempt to take out the ringleaders. (source)
Meanwhile FOX News reports that Black Lives Matter and Antia protesters are chanting and threatening violence while participating in their own current protests in Washington, saying that they will "burn the place down".
Protesters marched in Washington, D.C. throughout the afternoon and evening Saturday.

A "DC Queer and Trans Black History Month March and Rally" was organized at 2 p.m. by the Total Liberation Collective and the Palm Collective.

Later in the evening, Black Lives Matter protesters marched north from Dupont Circle.

Some Antifa protesters mixed in, as a red and black "Antifascist Action" flag could be seen being carried by a group of protesters clad in black.

The protesters briefly paused in front of a row of restaurants where some protesters scuffled with police officers, independent journalist Brendan Gutenschwager reports.

Chants of "Black lives, they matter here" and "If we don't get it, burn it down" rang out from the crowd.

"We are here tonight because black lives matter," the group recited at the end of the protest. "Despite black lives mattering, black people are still dying at the hands of the police paid for by our tax dollars." (source)
One may remember the rioting from BLM and Antifa-affiliated protesters during Summer 2020, where many buildings were burned in cities across the US and many people were killed and businesses destroyed, but the government did not touch anything hardly at all.
I point this out because people can sit back and ask "Why is this happening," and the answer is that it seems to be some sort of a strategy of tension playing out, similar to what the US has done in other nations but now doing it to her own people. Certain kinds of action are permitted because it is wanted, and the rest is discouraged and suppressed because it is not wanted, or if wanted, only for a certain purpose in a certain capacity before being discarded.
These social movements taking place that are exaggerating political tensions are no good, and given that so many seem to be controlled from without in some way, it seems the best way to 'participate' if one has a view is not to participate at all, lest one allow oneself to become a controlled pawn in a losing game as there is no winner.
The US adopted socialist policies a century ago, but she only now is making what seems to be a full transition to the said philosophy. As such, there is going to be no real winner, save for the continued trend of expanding power for the government at the expense of the common man.