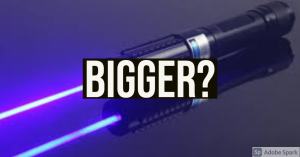 One of the companies I have said to watch is Rheinmetall, for given their size, relationship with the German government, the diversity of products they make, and how Germany is showing all signs o remilitarizing, that they could become the next IG Farben.
According to an article from Jane's intelligence, the Bundeswehr has given a contract to Rheinmetall to develop a high-energy laser.
The Bundesamt für Ausrüstung, Informationstechnik und Nutzung der Bundeswehr (BAAINBw), Germany's Federal Office of Bundeswehr Equipment, Information Technology and In-Service Support, has awarded a consortium between Rheinmetall Waffe Munition (RWM) and MBDA Deutschland a contract for a high-energy laser (HEL), the two companies announced in a joint press release on 28 January.

The consortium will build, integrate, and support testing of a laser weapon demonstrator for maritime applications by the end of this year for trials on the German Navy's F124 frigate Sachsen in 2022.

The BAAINBw has awarded a consortium between Rheinmetall Waffe Munition and MBDA Deutschland a contract for an HEL demonstrator to be tested on the German Navy's F124 frigate Sachsen in 2022.

MBDA and Rheinmetall have roughly equal workshares under the contract, which the two companies valued in the low double-digit million euro range. MBDA will be responsible for tracking, the operator console, and linking the laser demonstrator to the command and control system; and Rheinmetall for the weapon station, the beam guiding system, cooling, and integration of the laser weapon system into the project container of the laser source demonstrator.

Doris Laarmann, MBDA Deutschland's head of laser business development, said that the demonstrator would be used to test aspects such as the interaction of the sensor suite, combat management system, and effector, as well as rules of engagement. She described the contract as an important step towards an operational HEL system.

Since 2008 MBDA Deutschland has developed and tested an HEL weapon demonstrator against threats including fast, highly manoeuvrable targets such as mini-unmanned aerial vehicles (UAVs) with target acquisition, engagement, and destruction at ranges of up to 2 km. (source)
I have noted this before in other trends, but the future of the gun, as I have said, is one of becoming a 'second use' weapon. The weapons of the future- those needed specifically to take out the robotics and electronics- may need to involve microwaves or lasers.
Since in theory, the major applications for which such a technology would be used are yet to be publicly employed in battle, it appears here that Germany, as Shoebat.com has noted many times, is getting ready for another conflict of sorts in which an application for a tool such as this would be needed. It is similar to the scientific work in chemistry and physics that preceded World Wars I and II- these helped to lay the foundation for those two later conflicts.
It will be interesting to see how this fits into other trends about weapons and conflict between nations, especially in the West. But what we can say is that for now, is that something is clearly going on in Germany that needs to be paid attention to but is not getting enough, because when she does return militarily- and historically speaking, she always does -she will shock the world.