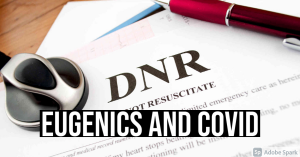 When one goes to the hospital, some either choose or have it chosen for them to get a DNR, or Do-Not-Resuscitate order, meaning if they start to die, don't try to help them. This can be done for a variety of reasons, including non-eugenic reasons (for example, somebody is dying a natural death, and the means required to keep them alive would be so extreme it could amount to human experimentation). However, unfortunately, many times DNRs are used to have a legal reason to kill somebody.
According to the UK Guardian, this eugenic approach is being used right now, as some hospitals have been exposed as placing DNRS on people in mass who have learning difficulties.
People with learning disabilities have been given do not resuscitate orders during the second wave of the pandemic, in spite of widespread condemnation of the practice last year and an urgent investigation by the care watchdog.

Mencap said it had received reports in January from people with learning disabilities that they had been told they would not be resuscitated if they were taken ill with Covid-19.

The Care Quality Commission said in December that inappropriate Do Not Attempt Cardiopulmonary Resuscitation (DNACPR) notices had caused potentially avoidable deaths last year.

DNACPRs are usually made for people who are too frail to benefit from CPR, but Mencap said some seem to have been issued for people simply because they had a learning disability. The CQC is due to publish a report on the practice within weeks.

The disclosure comes as campaigners put growing pressure on ministers to reconsider a decision not to give people with learning disabilities priority for vaccinations. There is growing evidence that even those with a mild disability are more likely to die if they contract the coronavirus.

Although some people with learning disabilities such as Down's syndrome were in one of four groups set by the Joint Committee on Vaccination and Immunisation (JCVI) which the government promised would be offered the vaccine by tomorrow, many were classified lower categories of need and are still waiting. (source)
Eugenics is a trend that we at Shoebat.com noted has not only never gone away, but is set to make a major comeback in the future with technological advances. Practices such as this are also likely a lot more common in major medical institutions than what is often discussed.
A Trend to watch will be, especially as race politicking continues, to see more talk of eugenics, the medical industry, and genetics", as people may want to justify their grievances with other political groups using eugenic language so that they can create an excuse to murder them. Likewise, it will become an issue that as people attempt to live longer and with less religion, thus pushing God out of their lives in an attempt to become their own deity, that one will see more of such attempt to get rid of "weak" or "useless" people so that only the "strong" would survive. It is nothing less than simple darwinism, except with 21st instead of a 19th century veneer.