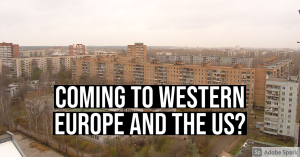 With many office building and business real estate in cities left vacant, in debt, or potentially unused in large part for the future, France24 reports that in order to address homelessness, these buildings could be transformed into low income housing.
Covid-19 has emptied office buildings and business districts, and with working from home expected to be the norm after the pandemic, some want to convert them to residential use to help solve inner city housing crises.

France has already begun to experiment with such conversions and "the significant rise in remote working encourages scaling up" such projects, French Housing Minister Emmanuelle Wargon said recently.

She wants to accelerate the transformations to respond to both the need for housing and to fight against urban sprawl.

A recent study concentrating on the Paris region, home to nearly a fifth of France's population, found that if around 40 percent of firms adopted two days of remote working per week following the pandemic, they could reduce the office space they occupy by almost 30 percent, or 3.3 million square metres, over the coming decade.

Such a scenario is a nightmare for the commercial real estate industry — a favourite of investors as it is easier to manage, with slower turnover of clients and fewer unpaid rent bills.

But even before the pandemic more than six percent of Paris region office space was vacant, according to the study from the IEIF research institute.

– 'Mythical creature' –

"The conversion of offices into housing is a bit of a mythical creature", said IEIF's director Christian de Karangal.

Although years of discussion have never amounted to concrete actions this time may be different, said de Karangal — even if the extent of remote working's impact on office space occupancy is still unclear.

That is because — in addition to public authorities encouraging such conversions — some buildings are becoming obsolete for use as offices, and institutional investors are now interested.

But the changes are not always straightforward.

"Not all buildings can be converted," said Sebastien Lorrain, a senior director for residential, healthcare and investment properties at international commercial real estate group CBRE in France.

"Only around 20 percent of assets studied showed a real potential for conversion," he said.

One of the greatest problems is natural light, said Carlos Alvarez, a project leader at the Moatti-Riviere architectural firm, which co-won an industry prize in 2019 for transforming offices into apartments.

Commercial buildings often have much greater floor space, making it difficult to ensure all rooms have windows to let in natural light.

"Most of the time, this results in demolitions," said Alvarez. (source)
This is an interesting proposal, and with that, a trend to look for in the US.
I have maintained for a while that in spite of the talk about "moving to the country" after COVID from the cities, that this is really a minority of people, who are mostly wealthy. The majority of people, wealthy and poor, will stay in the cities, because that is where the majority of work is, and people need to be physically present to do work. The difference will be an increasing divide between the wealthy and poor.
It is entirely possible that a "solution" such as this might eventually be implemented din the US. Remember that the US sits on a 3-trillion dollar real estate debt bubble, and because a lot of this debt involves "big box" stores, there is no real way to get rid of them easily. They could easily fall into disrepair and ruin if not used quickly, and become social blights. However, if they were to be repurposed as living spaces for low income or poor people, it would effectively allow for not just a transformation of use, but the implementation of socialism even deeper since it would most likely be the government that steps in to buy out the property and also acts as landlord.
Such a situation above is not guaranteed, but it is also not unreasonable to suspect. It will be an important trend to watch the commercial real estate marker in the US and see if ideas like the one that France is proposing will become more popular.
Perhaps, instead of calling them "Kvartaly" (the Russian term for the famous Soviet-era buildings), we are seeing the "mall house" become popular now, as the future seems ever more, and not necessarily for the better, like the recent past.
.