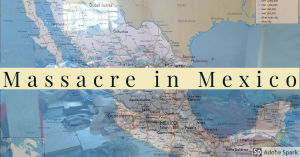 In a story that is making international news, Blog del Narco and the South China Morning Post report that a massacre has taken place in Mexico where twenty-four innocent people were executed inside of a drug rehabilitation clinic.
Gunmen burst into an unregistered drug rehabilitation centre in central Mexico and opened fire Wednesday, killing 24 people and wounding seven, authorities said.

Police in the north-central state of Guanajuato said the attack occurred in the city of Irapuato. Three of the seven wounded were reported in serious condition.

Apparently the attackers shot everyone at the rehab centre. State police said nobody was abducted.
Photos purporting to showed the scene suggest those at the centre were lying down when they were sprayed with bullets.

The attackers "entered the scene, forced (the victims) on to the ground and shot them," said Pedro Cortes, secretary of public security in Irapuato.

Guanajuato is the scene of a bloody turf battle between the Jalisco cartel and a local gang, and the state has become the most violent in Mexico.

No motive was given in the attack, but Governor Diego Sinhue said drug gangs appeared to have been involved.

"I deeply regret and condemn the events in Irapuato this afternoon," Sinhue wrote. "The violence generated by organised crime not only takes the lives of the young, but it takes the peace from families in Guanajuato."

Mexican drug gangs have killed suspected street-level dealers from rival gangs sheltering at such facilities in the past. It was one of the deadliest attacks on a rehab centre since 19 people were killed in 2010 in Chihuahua city in northern Mexico. More than a dozen attacks on such facilities have occurred since then. (source)
You can see the uncensored photos of the massacre here.
It is very easy with all of the chaos going on in the world to forget about one's neighbors. However, Mexico is one of the most dangerous places on earth, and many people in Mexico die pointless deaths for no reason other than they were in the wrong place at the wrong time. Mexico was not always like this, but because of a century of bad policies worsened over the last several decades as practically reduced the nation back to a state of latent paganism that the Spanish fought so hard to abolish.
As such, one may want to remember that this is the reason a lot of 'migrants' come to the US, for it is not because of strange ideas about "taking over America", but because they do not want to live any more in communities that have been taken over by drug cartels and with that, having to step over the dead bodies of their neighbors, never knowing if theirs will be the next one that another person is forced to step over.