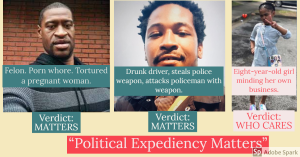 "The police are racist."
"Disband the police."
"All cops are murderers."
These are some sayings that became very popular in the last month after thousands, and possibly millions of people across America and around the world marched for "Black Lives Matter" using the convicted felon and porn whore who kidnapped and tortured a pregnant woman George Floyd and the drunk driver who attacked a police officer, stole an officer's weapon, and then tried to attack him with it Rayshard Brooks as their veritable 'martyrs for the cause.'
Many of these marchers got their wishes, as police departments were politically chastised and pushed to 'disband', and some have stopped doing the patrols they usually did in high-crime areas.
They got what they wanted- neighborhoods with little or no police. As a result, crime has exploded. For example, this weekend in New York, ten people were murdered and dozens injured in gunfights.
Police said 55 people were shot, 10 fatally, in 37 separate shooting incidents across the city over the 4th of July holiday weekend.

NYPD Chief of Detectives Rodney Harrison said in a tweet that the city saw at least 21 shootings with 37 victims from 12 a.m. to 9 a.m. Sunday.

In one incident, a 29-year-old Brooklyn man died after he was shot in the chest on East 170th Street in the Bronx near Sheridan Avenue around 6 p.m. Sunday, just four hours before three men were shot in a separate incident about a block away. In that case, two men were killed and a third victim was hospitalized in stable condition after being shot in the arm. (source)
Then in Chicago, fifteen people were murdered, two of which were small children, and dozens more shot.
Chicago was left reeling over the Fourth of July weekend as citywide gun violence left multiple children killed for the third weekend in a row.

As of 5 a.m. Monday, 79 people were shot, 15 of them fatally, including two children shot dead Saturday night. Nine other gunshot victims over the weekend were minors.

Ten children under 18 have died in Chicago gun violence since June 20, according to Chicago Sun-Times records.

The weekend ended up being more deadly than Independence Day weekend in 2019, when five people were killed and 65 others wounded. In 2018, 14 people killed and 87 wounded citywide in holiday weekend shootings. (source)
In Atlanta, near the place where Rayshard Brooks was killed, an eight-year-old was murdered in the continual violence over the weekend.
Atlanta Mayor Keisha Lance Bottoms is calling for change to fight "the enemy within" saying that enough is enough after an 8-year-old girl was fatally shot Saturday near the Wendy's where Rayshard Brooks was killed.

Later Sunday night the Atlanta Police Department said another man was killed and two other victims were injured during an exchange of gunfire just two doors down from the scene of Brooks' death.

Secoriea Turner, 8, was shot in the area of University Ave and I-75/85 Saturday night while riding in a vehicle with her mother and an adult friend, according to police. The driver was attempting to enter a parking lot at 1238 Pryor Road where a group of individuals illegally placed barricades. Someone in the group opened fire on the vehicle, according to police, striking Turner. (source)
Where are the protests?
Where are the marches?
Where are all of the "Black Lives Matter" people?
Where are the riots and looting that happened last month now?
Where are all of the opportunistic "pastors" and "preachers" that appeared?
Where are all of the politicians, businessmen, "community leaders", and other people we are supposed to respect?
They are not present at all.
Now I have made very clear here that I have criticized police, and specifically American police, for issues of brutality because as many people from around the world have noted, that while there are many good policemen, there is a well-documented segment who will commit crimes in the execution of their duty and then be protected by the court system from said crimes. At the same time, the average man who does much less and in the cause of legitimate self-defense often finds himself hyper-prosecuted to the point of his life being completely ruined. This is not an individual case, but a serious issue that has eroded faith and trust in the legal and judicial system, as prosecutions have in the US often become political statements instead of actual inquiry into situations and preserving good public safety.
In the case of both officers charged with murdering the above men- and especially in the case of Rayshard Brooks -it was very obvious upon further investigation, and let alone any questions about circumstances, that the police were not being excessive, but following standard procedures, and especially in the Brooks case, were very generous before using deadly force. Thus even the prosecutions of these officers has not become an exercise in justice, but rather politics.
Police are necessary in society not because of a love of "force" or violence, but because they are a testament to the existence of Original Sin. No police are perfect, and abuses happen, and abuses must be corrected among them, but one cannot have a society without police because contrary to the anarchist's dream of a police-free utopia, it would merely give way to the rise of militias and gangs to act as police, and they would be absolutely unjust (one only needs to look at any area of conflict be in Mexico, Africa, Iraq, or the Balkans as an example).
This is the real scandal, for as people scream for "justice" and about "racism" using criminals as their martyrs, their own children and family members are dying as a result of the consequences of their actions, and now many of the same are asking "why isn't anybody helping us?"
Such a situation is just like the man who screams his hatred of God, and then when God leaves and the demons attack him, he screams for help and asks why there is no help coming. Indeed, there was help there, and while he may not have enjoyed or agreed with everything, he chased away his own protection and left himself at the mercy of his environmental factors.
The talk of racialism and racial nonsense needs to end. If people want to march about something and be angry, an eight-year-old girl who was murdered simply for existing, a teenager who graduated from High School and was tending to his own business, or individual people who are murdered by their neighbors for unclear reasons are worthwhile things, because these are beyond race, but of human concern. Such an approach truly is saying that "Black lives matter" because indeed, "all lives matter" since all men are "made in the image and likeness of God" and are to care for each other as men equal in dignity and worth as men.