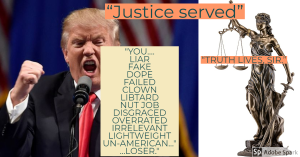 In a huge smackdown to President Trump, CNBC reports that the Supreme Court has ruled that his tax returns have to be released to Congress.
The Supreme Court on Thursday delivered split opinions in two cases over whether President Donald Trump can shield his tax records from investigators, handing a win to the Manhattan district attorney but rejecting parallel efforts by Democrats in the House of Representatives.

Both cases were decided 7-2, with Chief Justice John Roberts authoring the court's opinion and joined in the majority by Justices Ruth Bader Ginsburg, Stephen Breyer, Sonia Sotomayor, Elena Kagan, Brett Kavanaugh and Neil Gorsuch. Justices Clarence Thomas and Samuel Alito dissented in both cases.

The decisions mark the first time that the nation's highest court has directly ruled on a matter involving Trump's personal dealings. Trump has been more secretive with his finances than any president in decades, refusing to release his tax records to the public even as he mounts a bid for reelection.

The cases were decided on the final day of the Supreme Court's term, which began last October and was extended past its typical end-of-June conclusion as a result of precautions taken against the spreading coronavirus.

"In our judicial system, 'the public has a right to every man's evidence.' Since the earliest days of the Republic, 'every man' has included the President of the United States," Roberts wrote in the New York case.

That case stemmed from an investigation being pursued by Manhattan District Attorney Cy Vance Jr. Vance issued a subpoena to Trump's longtime accounting firm, Mazars, for a wide variety of Trump's personal and business records, including tax returns, dating back to 2011.

…

In a statement, Vance called Thursday's decision "a tremendous victory for our nation's system of justice and its founding principle that no one – not even a president – is above the law."

"Our investigation, which was delayed for almost a year by this lawsuit, will resume, guided as always by the grand jury's solemn obligation to follow the law and the facts, wherever they may lead," Vance said.

The congressional cases involved subpoenas issued by Democratic-led committees of the House of Representatives, which sought financial records from the president's longtime accounting firm Mazars USA as well as his banks, Capital One and Deutsche Bank.

"This case is different," Roberts wrote in the opinion handed down Thursday. "Here the President's information is sought not by prosecutors or private parties in connection with a particular judicial proceeding, but by committees of Congress that have set forth broad legislative objectives."

"Congress and the President—the two political branches established by the Constitution—have an ongoing relationship that the Framers intended to feature both rivalry and reciprocity," Roberts wrote.

The House Oversight Committee sought out the information in connection with investigations into claims made by the president's former lawyer Michael Cohen that Trump inflated and deflated his assets to suit his needs.

The oversight panel is also investigating Trump's failure to disclose a $130,000 hush money payment that he owed to the adult film actress Stormy Daniels on his 2017 disclosure form. The Office of Government Ethics has said that Trump should have listed the debt — which he owed to Cohen, for facilitating the payment — as a liability.

The financial services and intelligence committees issued two separate subpoenas to Deutsche Bank seeking information on the president and members of his family, including his children Donald Trump Jr., Eric Trump, and Ivanka Trump. A third subpoena, from the financial services committee, asked Capital One for a wide variety of information on 15 Trump businesses.

The financial services committee is investigating potential foreign money laundering. Rep. Adam Schiff, the chairman of the intelligence committee, has said his committee's investigation entails uncovering whether "any foreign actor has sought to compromise or holds leverage, financial or otherwise, over Donald Trump, his family, his business, or his associates." (source)
Trump is really mad about this, and while I personally suspect on nothing more than circumstantial evidence with no objective proof to say such otherwise that this may be an act of 'revenge' for Trump's criticisms and attempts at overreaching the Supreme Court's jurisdiction, I cannot say that Trump did not get what he deserved.
Many people- including myself -supported Trump because the unique situation into which he came into the election, his interesting history, and his bold statements offered a real chance to distinguish himself as a true leader who might be able to break up some of the "logjam" that historically exists in the two-party divide. While I never expected him to be able to do all he said he would (as such should never be expected of any politician), if he was to be 10% better than Obama, it could make a real difference in the lives of people.
But that is not what Trump was, for instead he has shown himself to be far worse, not only failing his promises, buut many times actively going against what he promised and attempting to blame it on another person or group. Like Trump or not, it is clear that America has not gotten better, but far worse under his presidency, for blustery talk is not a substitute for action.
One of the most dangerous things that Trump has done is to slowly break down the barrier between the three branches of government and concentrate power into the Executive Branch. This has been going on for a long time, but Trump's actions have greatly expedited this process. This is a direct threat to what few freedoms are left in the US, as such serves only to speed the process of tyranny that has been in the works fo over a century now.
There is much that can be criticized about Chief Justice John Roberts, but Roberts was absolutely correct when he told Trump that his behaviors towards the courts and Congress were dangerous and a threat to the functioning of the American system of government, or rather, what is left of it.
Trump has not been a leader. Has acted in many ways like a big bully who thinks he can blabber and bad-mouth his way into what he wants and out of his problems. However, this is a situation in which he legally cannot do that, and all of the yelling and insults cannot stop the inevitable.
Justice has been served, and now Trump has to eat it.