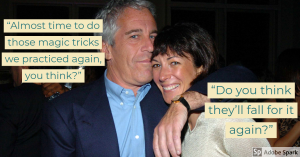 You read it here on Shoebat.com and many other websites that there is a strong speculation that Ghislaine Maxwell, daugther of Jan Hyman Hoch, a.k.a. Robert Maxwell, who was one of the main minds and at the center of the creation of Israel's intelligence service, Mossad, the woman who participated with admitted intelligence agent Jeffrey Epstein in the trafficking, pimping, and sexual abuse of children to some of the world's wealthiest and most powerful individuals, as well as connections to sinister individuals involved in occult practices, she may suddenly be reported as "dead" by "suicide".
In a report from the AP in a huge ironic twist, the Federal Government is reporting a fear that Ghislaine may try to "commit suicide" in prison.
Federal officials were so worried Jeffrey Epstein's longtime confidante Ghislaine Maxwell might take her own life after her arrest that they took away her clothes and sheets and made her wear paper attire while in custody, an official familiar with the matter told The Associated Press.

The steps to ensure Maxwell's safety while she's locked up at a federal jail in New York City extend far beyond the measures federal officials took when they first arrested her in New Hampshire last week.

The Justice Department has implemented additional safety protocols and federal officials, outside of the Bureau of Prisons, have been specifically tasked with ensuring there's adequate protection and the prisons protocols are being followed, the official said. The protections are in case she harms herself, and in case other inmates wish to harm her.

The concern comes in part because Epstein, 66, killed himself in a federal jail in Manhattan last summer while in custody on sex trafficking charges. The Bureau of Prisons has been the subject of intense scrutiny and conspiracy theories since then, with staff shakeups and leadership changes. Attorney General William Barr said his death was the result of the "perfect storm of screw ups."

Maxwell was sent to the Metropolitan Detention Center in Brooklyn, over the Brooklyn Bridge from where Epstein was held.

The other protocols put in place for Maxwell's confinement include ensuring that she has a roommate in her cell, is monitored and making sure someone is always with her while she's behind bars, the official said.

The official could not discuss the ongoing investigation publicly and spoke to The Associated Press on condition of anonymity.

Maxwell was arrested last Thursday on charges she helped lure at least three girls — one as young as 14 — to be sexually abused by Epstein, who was accused of victimizing dozens of girls and women over many years.

Maxwell, the daughter of the late British publishing magnate Robert Maxwell, was the former girlfriend and longtime close associate of Epstein. She is accused of facilitating his crimes and on some occasions joined him in sexually abusing the girls, according to the indictment against her. Several Epstein victims have described Maxwell as his chief enabler, recruiting and grooming young girls for abuse. She has denied wrongdoing and called claims against her "absolute rubbish."

Maxwell was arrested by a team of federal agents last week at a $1 million estate she had purchased in New Hampshire. The investigators had been keeping an eye on Maxwell and knew she had been hiding out in various locations in New England.

She had switched her email address, ordered packages under someone else's name and registered at least one new phone number under an alias "G Max," prosecutors have said.

When the agents swooped in to arrest her, they weren't sure that she was even at the home, the official said. Some of the investigators believed she may have already fled from the United States in order to avoid prosecution, the official added.

After her arrest, Maxwell was put into the custody of the U.S. Marshals Service, which utilized a series of suicide-prevention protocols, including taking away her sheets, as well as other safety measures, fearing a repeat of what happened with Epstein. (source)
Of course, if she does "commit suicide", it would be even more ironic if like the "suicide" of Epstein, the cameras were turned off for fifteen minutes, and then turned back on after his "suicide", at which point his body would be shuffled out quickly with no photos save for a few leaked out, quickly pronounced dead with no investigation, and buried in an unmarked grave.
In the USSR, as I have written, people that were disliked would "commit suicide" by throwing themselves off of a building, sometimes in broad daylight, with also a convenient bullet or knife wound in the head or chest.
It would be tremendously ironic if Ghislaine did "commit suicide", and would not better the situation, but only further the very real suspicious, based on legitimate concerns and a mountain of evidence that truly, #JeffreyEpsteinDidntKillHimself, and that both he and Ghislaine are being hidden while their victims are left to suffer.
There are a lot of people who have romantic ideas about spying, or who believe that it is a patriotic endeavor, but the more one looks into the highly disturbing aspects of the Epstein case, the more one sees how ugly it was, with many times innocent children and young teenagers tricked and abused, sometimes to the point of death, for satisfying the perverted lusts of powerful men, or even worse, as a seeming way to make a sort of blasphemous ritual to demonic powers in order to seek preternatural help to get power in this world at the cost of their souls. This is the real face of a lot of this work, which is the pursuit of power at all costs with respect to none, and the abandonment of morals and God because one does not want to listen to him, but to think that one knows better and in a most blasphemous way, to think that man knows better than God and can "beat" Him with tricks and subversive behavior.
Truly, if men do not desire the mercy of God and seek it for others, they will secure His justice, as such is the nature of love, as God is love, and God will not be mocked forever.