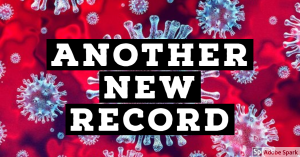 COVID-19 infection rates continue to rise without stopping, setting new records every day. This past Sunday according to the Associate Press another record for infections was set, this time in Florida.
With the United States grappling with the worst coronavirus outbreak in the world, Florida hit a grim milestone Sunday, shattering the national record for a state's largest single-day increase in positive cases.

Deaths from the virus have also been rising in the U.S., especially in the South and West, though still well below the heights hit in April, according to a recent Associated Press analysis of data from Johns Hopkins University.

"I really do think we could control this, and it's the human element that is so critical. It should be an effort of our country. We should be pulling together when we're in a crisis, and we're definitely not doing it," said University of Florida epidemiologist Dr. Cindy Prins.

Adm. Brett Giroir, a member of the White House coronavirus task force, called mask-wearing in public, which has been met with resistance in some U.S. states, "absolutely essential."

Giroir, the assistant secretary at the Health and Human Services Department, told ABC's "This Week" on Sunday that "if we don't have that, we will not get control of the virus."

President Donald Trump wore a mask in public for the first time Saturday, something Democratic House Speaker Nancy Pelosi said Sunday showed he has "crossed a bridge."

Pelosi told CNN's "State of the Union" that she hopes it means the president "will change his attitude, which will be helpful in stopping the spread of the coronavirus."

In hard-hit Houston, Texas, two top Democratic officials called for the nation's fourth-largest city to lock back down as area hospitals strained to accommodate the onslaught of sick patients.

In Florida, where parts of Walt Disney World reopened Saturday, 15,299 people tested positive, for a total of 269,811 cases, and 45 deaths were recorded, according to state Department of Health statistics reported Sunday.

California had the previous record of daily positive cases — 11,694, set on Wednesday.

The numbers come at the end of a record-breaking week as Florida reported 514 fatalities — an average of 73 per day. Three weeks ago, the state was averaging 30 deaths per day.

Researchers expect deaths to rise in the U.S. for at least some weeks, but some think the count probably will not go up as dramatically as it did in the spring because of several factors, including increased testing.

The World Health Organization, meanwhile, reported another record increase in the number of confirmed coronavirus cases over a 24-hour period, at over 230,000. (source)
It has been said many times but cannot be said enough- please be careful, please follow safety precautions, and please stay healthy, because this illness is a threat and it is not worth trying to make a point about something in order to have accidental death as a consequence.