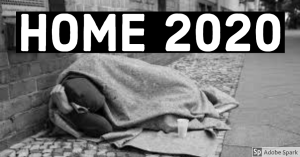 I have warned that given the economic destabilization taking place because of COVID-19, there would likely be an increase in homelessness. Chron.com has reported on this, saying that people with money are buying homes as fast as they can, while the poor are finding it increasingly hard to survive and are struggling more than ever.
The coronavirus pandemic is exacerbating inequities across America, especially in housing. This summer is one of the best times for home buyers and worst for many renters. Americans with money in the bank are buying bigger homes, while renters increasingly worry about eviction.

Homes sold nationwide in April, May and June at annualized rate of 15 million, according to seasonally-adjusted data released last week by the Commerce Department and National Association of Realtors. Meanwhile, 12.6 million renters say they were unable to pay rent last month, according to the latest Household Pulse survey from the U.S. Census.

Homes sales are booming, because Americans who have savings, stable jobs and good credit scores are taking advantage of the cheapest mortgage rates on record to bargain shop for larger homes. New mortgage applications just hit a level not seen since 2008. Sales of previously owned homes, like the one Dietsche listed in central Pennsylvania, surged a record-setting 20.7 percent in June. Sales of new homes jumped 13.8 percent last month, well above experts' forecasts.

"People are literally trying to get back to a house in the suburbs with a yard and a fence. Those are the houses that are blown off the market in two seconds," said Dietsche, a Realtor at House 4 U Real Estate in Dillsburg, Pa.

On the flip side, the worst downturn since the Great Depression has hit low-income workers – who are typically renters – the hardest. Sixty percent of renter households have had at least one person in the home suffer a job or pay cut versus 45 percent of homeowner households, Census survey data from July 9-14 show. Evictions are widely expected to spike soon. Stout Risius Ross, a consulting and investment banking firm, predicts nearly 12 million eviction filings by October.

"Whatever savings I had built up, it all went on rent or else I'd be living outside. My light and water are about to be cut off. I'm trying to work on keeping them on," said Steen, as she helped sell hot dogs on a road heading to the beach. "I'm just afraid to go back to Pensacola Beach, but I have to make some kind of money."

Renters are rapidly losing the few lifelines they had during the pandemic. A federal government moratorium that protected millions of renters from being evicted expired on Friday. The extra $600 a week in unemployment aid many laid off workers had been getting ended over the weekend. Congress has yet to agree on an extension, a worry as Aug. 1 rent payments loom.

"This crisis really does have the potential to exacerbate housing inequality. Really low mortgage rates are providing an extra $100 to $300 of saved monthly housing costs for people who are able to buy a home right now or millions of homeowners who have been refinancing," said Jeff Tucker, an economist at housing site Zillow. "But it's no help to renters or people who were laid off and are now locked out of the mortgage market."

The median listing price for a home for sale in the United States is now $340,000, according to Zillow data, up about 5 percent from a year ago and an indication of strong demand and few homes on the market. (source)
Unfortunately, as poverty increases, there is going to be a lot of homelessness. This is part of a greater trend we will be looking at, since it will likely go well beyond 2020 and into the future.