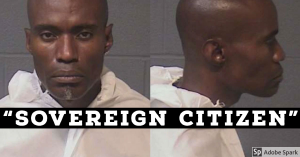 There is a movement in America known as the "sovereign citizen" movement. While some of the principles would appear to make sense on immediate observation, such as emphasizing the ideas of individual liberty and responsibility, it is on closer observation not such at all, but rather a stew of crafty legalese attempting to use individual words in questionable and highly-selective and carefully-crafted situations to justify the rejection of law, the embrace of anarchy, and the legalization of criminal behavior in a combination that make the heads of lawyers and judges alike spin.
This is an example of "sovereign citizen" logic at use in the courts. Note the carefully chosen words, as this is a fundamental premise of the movement, which serves often to confuse rather than provide clarity, another proof that the movement is not about seeking justice, but is the blatant and sometimes, comical abuse of language to try and legitimize insane, inane, or irrational requests.
The idea of "sovereign citizenry" rejects at its essence any sense of collective social responsibility, and with that the idea of law as a social contract in any form. It is an attempt to give a legal framework to the wicked idea that one can do what one pleases, and that the law it rejects is also a means to justify the same libertine behavior and attitudes. If there was ever an inversion of law in the name of the law, it is the philosophy upon which the concept of the sovereign citizen movement is founded.
Because of this, sovereign citizens are associated often with people who attempt to do crazy things in court, or who are just simply crazy people in general, and many are known to commit crimes, especially ones such as tax evasion, but sometimes more serious ones. A horrible example of this happened recently in Hartford, Connecticut, where a man beheaded his landlord with a samurai sword and then said he was justified in doing this because he is a 'sovereign citizen' who refused to pay rent.
The man charged with using a samurai sword to decapitate his landlord inside an Asylum Avenue home this weekend refused to talk to police about the crime, claiming he is a sovereign citizen.

At his arraignment Tuesday in Superior Court in Hartford, Jerry David Thompson refused to say anything and was ordered held in lieu of $2 million bail.

Thompson also refused to speak with a public defender and at this point is not represented by an attorney. Judge Ann Lynch continued Thompson's case to Aug. 18.

According to the warrant for Thompson's arrest, drafted by Hartford detectives, he was identified as a suspect by friends of victim Victor King, who had rented a room to Thompson inside his Asylum Avenue home. The two men had had a dispute about Thompson not paying rent, according to the warrant, and Thompson threatened King with a samurai sword.

King was so alarmed by Thompson's threats he went to Hartford police on Saturday, the day before he was killed, and told them Thompson had been waving the sword at him.

On Sunday, friends of King called police to say they could not reach him. Sunday afternoon, police and firefighters forced their way into King's home and found a lot of blood and King's badly slashed body covered in bedding.

Police began looking for Thompson to question him about the killing and found him and pulled him over in the North End. Back at police headquarters, detectives tried to talk to Thompson but he would not say anything.

At one point he wrote on a piece of paper, "paper in glove compart in Jeep is all you need." In the glove compartment of the Jeep, police found paperwork suggesting Thompson viewed himself as a sovereign citizen, people who don't view themselves as subject to the law. He has previous convictions for assault and robbery. (source)