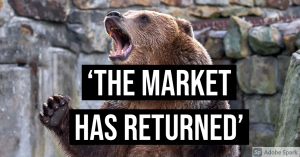 For all the people who talk about George Soros as a sort of mad evil genius, and this is not to deny his many questionable activities (such as his ties to the Hungarian right wing), few of these same people ever mention Jim Rogers, and equally elderly man who was his long-time partner in his financial days. Rogers is a well-known and respected figure who often comments on financial matters and tends to be generally balanced (from my experience).
According to a recent story from MarketWatch, Rogers said that the continuation of money printing amid the ongoing economic effects from the response to the COVID-19 pandemic is going to be very destructive, especially for young people.
'It's good to be old. Young people have a very bleak future ahead of them.'

That's Jim Rogers, the 78-year-old co-founder of George Soros's Quantum Fund, once again hammering home the idea that the flood of money flowing from central banks are artificially keeping markets around the world afloat and will ultimately lead to disaster.

"If you look out the window, you'll see printing presses everywhere," Rogers explained in an interview with the Peak Prosperity blog. "You know what happened to all the other countries in history that have gotten themselves deep into debt… it hasn't been pretty."

To gird against such weakness, Rogers pointed out that commodities, as you can see from this chart highlighted in the blog post, are offering an historic bargain relative to equity valuations.

In separate comments made at the 12th annual "Russia Calling" Investment Forum in Moscow last week, Rogers talked about how the actions of some of in positions of power have made the coronavirus pandemic even more devastating for global economies.

"This is probably the worst [crisis] that I have seen in my lifetime, because everything collapsed and you had politicians and media and everybody overreacting in my view, and everybody closed down," he was quoted as saying by RT.com. "We've had many epidemics in history, but never before did they close McDonalds, never before did they close all the airlines."

The U.S. death toll from COVID-19 recently topped 230,000 and the total case number hit 9.1 million after more than 99,000 infections in a record one-day tally, according to Johns Hopkins University.

Rogers, not one to shy away from gloomy calls, told participants at the form that the next bear market is "going to be the worst in my lifetime." (source)
This is a good time to remind people that 57% of the nations's wealth is held by the Boomers, 16% by Generation X, just under 25% by corporations, foreign investments, trust funds, and other entities, 3% by Millennials, and less than 1% by the Zoomers.
This is a very bad sign for the future, as the Boomers, who are already in a lot of debt, will likely pass away and with it their wealth also. The passing of the Boomers will signal a fundamental transformation in American society that is going to have major impacts on the fiscal structure of the nation.
To that, I will warn again that the economic crisis the nation is facing is tremendous, its scope is difficult to understand as it has never been done before, and it is the largest in world history.
Take this for what it is worth, because this is not about money. Rather, it is about the destruction of the local economic and political systems by the evisceration of an inherently unstable financial sector that was built with flaws knowingly in it that will cause economic implosions the bring about major political impacts by spread to multiple areas. It is also not just the US, but the US is so important because the dollar runs the world economy. Indeed Germany will be hit worse than the US because she cannot simply print money to service her debts against the currencies of the rest of the world like the US.
So far, it appears that there may be three major waves over the next decade of political crises, likely stemming from a combination of economic issues with social problems. These are 2023-2024ish, 2027ish, and 2029.
But for what Rogers is saying, be on the lookout, because the future is bleak, and woe to he who does not prepare well for what is coming.