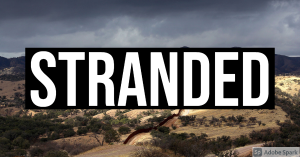 One of the points I have noted at Shoebat.com for a long time is how the migrants coming to the US are viewed in purely utilitarian terms. Some see them as a political football. Others as a source upon which to load up mountains of debt. Others as cheap under-market labor and consumers. Whatever the view, they- just like the waves of European migrants who came before them -are treated often as less than human. This is a trend that persists regardless which political party is in power.
According to a recent story from the New York Times, US authorities have dumped a large numbers of children into Mexico despite not being from Mexico.
U.S. border authorities have been expelling migrant children from other countries into Mexico, violating a diplomatic agreement with Mexico and testing the limits of immigration and child welfare laws.
The expulsions, laid out in a sharply critical internal email from a senior Border Patrol official, have taken place under an aggressive border closure policy the Trump administration has said is necessary to prevent the coronavirus from spreading into the United States. But they conflict with the terms upon which the Mexican government agreed to help implement the order, which were that only Mexican children and others who had adult supervision could be pushed back into Mexico after attempting to cross the border.

The expulsions put children from countries such as Guatemala, Honduras and El Salvador at risk by sending them with no accompanying adult into a country where they have no family connections. Most appear to have been put, at least at first, into the care of Mexican child welfare authorities, who oversee shelters operated by religious organizations and other private groups.

The expulsions, which appear to number more than 200 over the past eight months, reflect the haphazard nature with which many of the administration's most aggressive immigration policies have been introduced. In many cases, they have led to the shuffling of young children between U.S. government agencies and now, between the governments of countries that are not their own. For years now, the Trump administration's handling of migrant children has left members of families separated for months on end and unable to reach one another.

A report to the courts earlier this month revealed that the parents of 545 such children currently in the United States, some of them separated from their families as long ago as 2017, still have not been located.

Under existing diplomatic agreements and U.S. policies, children from countries other than Mexico are supposed to be put on flights operated by Immigration and Customs Enforcement to their home countries, where they can be reunited with their families.

Rumors of children from other countries being expelled into Mexico have swirled among nonprofit workers advocating for child welfare in Mexico and the United States. But locating any such children has been difficult because of spotty reporting from Mexican government authorities.

But an email from the U.S. Border Patrol's assistant chief, Eduardo Sanchez, obtained by The New York Times, makes it clear that such transfers have not only occurred, but that they are a clear violation of U.S. policy.

"Recently, we have identified several suspected instances where Single Minors (SM) from countries other than Mexico have been expelled via ports of entry rather than referred to ICE Air Operations for expulsion flights," Mr. Sanchez wrote. (source)
Now to be fair, the reason for this is likely that these people crossed by way of Mexico into the US. Likewise, another concern is about the parents of these children- why did so many arguably allow their children to cross multiple countries without supervision?
There are a lot of issues here, but what we can pull from this is that no matter who is elected, the trend of the border being used as a tool of political manipulation without regard to the human good of both US citizen and migrant alike is going to continue, and it will be the most vulnerable who continue to suffer.