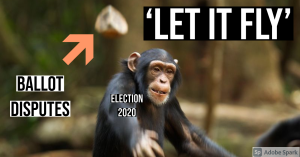 I have noted repeatedly at Shoebat.com that the 2020 election is going to be a virtual comedy show, and that one of the trends to watch for is going to be the involvement of the Supreme Court in the matter. Sure enough, the Texas Tribute reports that the Texas Supreme Court has had to get involved in a ballot dispute with the Republican Party.
A legal cloud hanging over nearly 127,000 votes already cast in Harris County was at least temporarily lifted Sunday when the Texas Supreme Court rejected a request by several conservative Republican activists and candidates to preemptively throw out early balloting from drive-thru polling sites in the state's most populous, and largely Democratic, county.

The all-Republican court denied the request without an order or opinion, as justices did last month in a similar lawsuit brought by some of the same plaintiffs.

The Republican plaintiffs, however, are pursuing a similar lawsuit in federal court, hoping to get the votes thrown out by arguing that drive-thru voting violates the U.S. constitution. A hearing in that case is set for Monday morning in a Houston-based federal district court, one day before Election Day. A rejection of the votes would constitute a monumental disenfranchisement of voters — drive-thru ballots account for about 10% of all in-person ballots cast during early voting in Harris County.

After testing the approach during the July primary runoff with little controversy, Harris County, home to Houston, set up 10 drive-thru centers for the fall election to make early voting easier for people concerned about entering polling places during the pandemic. Voters pull up in their cars, and after their registrations and identifications have been confirmed by poll workers are handed an electronic tablet through their car windows to cast ballots.

In a last-minute filing to the Supreme Court, litigious conservative Steven Hotze and Harris County Republicans state Rep. Steve Toth, congressional candidate Wendell Champion and judicial candidate Sharon Hemphill sought to have the votes declared illegal. They argued that the drive-thru program was an expansion of curbside voting, and under state election law should only be available for voters with disabilities. The same argument had been made in an unsuccessful previous legal challenge from Hotze and Hemphill — along with the Harris County Republican Party — filed at the state Supreme Court hours before early voting began. (source)
Given the likelihood of appeal to the Supreme Court, the similarities between this election and election 2000, and the current rancor between the parties, there is a strong chance this election may be decided in a manner similar to like with Bush vs. Gore 2000.
Sit back, get some popcorn, because the show is about to begin, and let the mess fly.