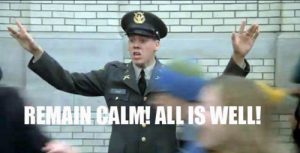 According to tweets from journalists about a Democrat party conference call on the current situation, it was rife with anger, accusations, and back-stabbing claims, as Washington Post journalist Erica Werner notes.
Spanberger on the Dem caucus call: We lost races we shouldn't have lost.
Defund police almost cost me my race bc of an attack ad.
Don't say socialism ever again.
Need to get back to basics.
(Is yelling.)

— Erica Werner (@ericawerner) November 5, 2020
If we run this race again we will get fucking torn apart again in 2022, Spanberger says

— Erica Werner (@ericawerner) November 5, 2020
As I said earlier- and I intend to explain more in the future -if Biden loses, the above tweets will be a major blessing for the Democrats.
The Republicans should not laugh too hard. This is not so much of a 'Democrat destruction' at hand, but possibly a long-term Democrat victory in its earliest stages, and certainly not related to Biden or any of the current Silent Generation and Boomer Generation leadership.
It's the young Xers, Millennials, and Zoomers to fear, and not the pink haired ones either.
Go Spanberger. She's right. Dems need to move back to the middle

— Benny James (@MCumberbark) November 5, 2020
Read this tweet, because if Biden loses (and the Democrats win), this is the future that I have been warning you at Shoebat.com.