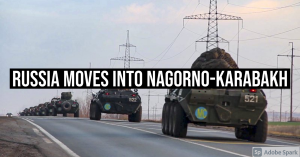 The war in Nagorno-Karabakah has at this point gone to the favor of Azerbaijan, as Armenia has admitted she is surrounded and cannot continue. Shortly after this happened, it was reported that an Azeri missile 'accidentally' shot down a Russian helicopter in the region. Now, reports are coming in that almost two thousand Russian troops are moving fast into Nagorno-Karabakh.
More than a dozen planes carrying Russian peacekeepers headed for Nagorno-Karabakh on Tuesday, hours after Armenia and Azerbaijan agreed to halt fighting over the separatist region and amid signs this cease-fire would hold where others hadn't.

The truce came after significant advances by Azerbaijani forces that the Nagorno-Karabakh leader said made it impossible for their side to carry on — but angered many Armenians, who stormed government buildings overnight, demanding the Parliament invalidate the agreement. Dozens of protesters gathered again Tuesday morning in front of the parliament building in the Armenian capital of Yerevan.

…

Nagorno-Karabakh's separatist leader Arayik Harutyunyan echoed Pashinian's sentiment. He said: "Had the hostilities continued at the same pace, we would have lost all of Artsakh (an Armenian name for Nagorno-Karabakh) within days."

Azerbaijani President Ilham Aliyev referred to the agreement as a "glorious victory" on Twitter, and Azerbaijanis flooded their capital city to celebrate.

Russia's Defense Ministry said that 15 planes carrying peacekeepers and military equipment departed for the region Tuesday. A total of 1,960 Russian peacekeepers are to be deployed in Nagorno-Karabakh under a five-year mandate. (source)
What happens now will be interesting to watch, for while Azerbaijan has won and will likely take more control over the area, now that Russia is moving directly into the area, since Azerbaijan was likely pressed by Turkey to attack, will Turkey attempt to do something? Also, since Armenia has ties to both the US and Russia (by way of being a Soviet state), are we going to see attempts to annex Armenia again, such as what Putin has openly talked about doing (but has not done yet) with Belarus?
One can only tell. However, given Turkey's genocidal history an impulses, the Russian presence in Nagorno-Karabakh is likely to decrease the chance of atrocities being committed against Armenians in that areas or in Armenia itself.
…for now.