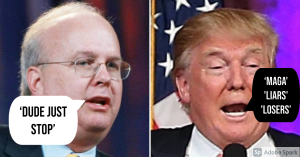 There are some people who still believe that Trump can win. While the official count has not been formally settled, former right-wing lobbyist and White House Deputy Chief of Staff under Bush, Karl Rove, said that Trump will not prevail over Biden.
Still, enough voters wanted change. Mr. Biden maneuvered successfully to make the election a referendum on the president's personality and his handling of Covid. For months Mr. Trump was content to fight on that turf, trying only fitfully to contrast his agenda with his challenger's.

Presidents win re-election only in part by heralding their achievements and outlining second-term agendas; much more depends on contrasting their opponent's values and views with their own. That Mr. Biden's margin of victory was much slimmer than projected can be credited partly to Mr. Trump's emphasis in the closing days on their substantive differences—discussing fracking in Pennsylvania and toleration of socialism in Miami. But it wasn't enough.

Mr. Trump is now pursuing legal challenges in Pennsylvania, Wisconsin, Michigan, Arizona and Nevada, and there will be an automatic recount in Georgia, given Mr. Biden's 0.29-point lead there. Senate Majority Leader Mitch McConnell is correct that Mr. Trump is "100% within his rights" to go to court over concerns about fraud and transparency. But the president's efforts are unlikely to move a single state from Mr. Biden's column, and certainly they're not enough to change the final outcome. (source)
What it seems is that both the Democrats and Republicans want to dump Trump, and not just because they are "against Trump," for while this is certainly the case with the former party, the latter it is that a Biden victory is a long-term Republican victory, for the winner of this election is the loser as the losing party has four years to rebuild themselves amid major social and economic problems while pinning the political 'tail' on their rival.
Biden won, but the Democrat party did not win. Rather, they may go down in history not as leaders, but as the party that 'destroyed America' amid a looming debt crisis.
Basically, from a strategist perspective- something Rove knows very well -it actually would serve his interests to see a Biden victory, and since that is what is superficially clear and what the public wants, why not allow what most agree on to let live as it is?