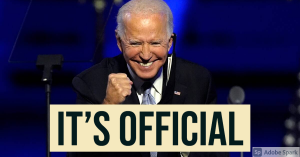 After much tweeting, silence, and more tweeting, it appears that Trump has gone a further step by saying, as is reported by Business Insider, that "[Biden] won because the election was rigged".
President Donald Trump on Sunday for the first time seemingly admitted that he lost the 2020 presidential election in an early morning tweetstorm, over a week after the race was formally called for President-elect Joe Biden.

In the unexpected personal revelation, Trump lambasted the election results on Twitter, saying said that Biden beat him because the process was compromised.

"He won because the Election was Rigged," he tweeted. "NO VOTE WATCHERS OR OBSERVERS allowed, vote tabulated by a Radical Left privately owned company, Dominion, with a bad reputation & bum equipment that couldn't even qualify for Texas (which I won by a lot!), the Fake & Silent Media, & more!"

A couple of hours after his indirect admission to Biden's victory, Trump remained defiant in his refusal to concede the race.

"He only won in the eyes of the FAKE NEWS MEDIA," Trump wrote. "I concede NOTHING! We have a long way to go. This was a RIGGED ELECTION!"

At the beginning of Trump's Sunday morning tweetstorm, he linked to a segment of "Watters' World," the Fox News show hosted by Jesse Watters, where Watters criticized Biden's campaign and questioned how he could have beat the president.

"There's something that just doesn't feel right about this," Watters said in the segment. "Joe Biden didn't earn it, he didn't really even campaign. He thought was going to lose, you could see it. He ran a losing campaign. So 10 days after the election, how's he ahead?" (source)
Now I will say that much evidence exists that suggests that Biden really did cheat. This, however, is no different than what happened in 2000 with Bush/Gore, except instead of five counties, it was five states. While Trump has not conceded the election, and it doubtful that he ever will and may continue to fight the results for months, it appears to be another step towards clarifying what the press and many leaders from around the world have stated, which is that come January 2020, barring any legal action or other unexpected changes taking place, former Vice President Biden can be officially called "President Biden".
But not to worry. Trump most likely does not see it (for one does not know officially, as one can only go by public actions and statements made about the matter's internal affairs), but he likely dodged a HUGE fiscal bullet, that of the debt, on his watch. In this situation now, if Trump wanted to leave Biden in the worst possible situation, he would do what I have said before- print more stimulus, and as such, compel Biden to print even more on his watch as by ringing up more debt it will devalue the currency and eventually cause a crisis that could fall on Biden- and Harris' -collective lap.
If Trump goes on to purchase NewsMax- which it seems he may do -not only will he NEVER let the election issue go, but he will emerge as an even stronger victor, since he will be able to capitalize on the cult of personality built around him that will probably give him more influence over the public mind than what he had while he was in office.