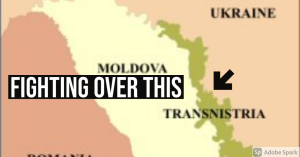 Some countries are big. Some can be small. Some are just for leverage between other powers. These "countries" are often used as geopolitical tools in manipulating particular ends for larger nations. Examples currently include Abkhazia, South Ossetia, Lugansk, Donetsk, Catalonia, Flanders, and Walonia. They are used by the US, Russia, Germany, and other powers alike for their ends.
However, another such example of a republic less known but that may be a similar type is the "republic" of Transnistria, which is just a strip of land the size of Rhode Island along the Moldova-Ukraine border that only Russia and other of such Russian-backed separatist "states" support, and which also has the Russian flag for her flag and whose official language is Russian (as opposed to Ukrainian or Romanian). However, according to Pravda, it appears that Russia may go back to supporting "Transnistrian nationalism" as a part of the same power games being played by the western powers in Eastern Europe.
Do Western puppeteers expect that new forces will appear on the revolutionary wave that will reconfigure this political system, and it will be more Western-oriented?

– Yes, but to some extent there is still a calculation to hit on the image of Russia in this region. The main protest wave should begin on election day, according to the organizers. Nobody hides it.

For example, Nastase, who retired from the presidential candidates, openly offered strong men to sign up, prepare groups, and he agreed to lead these groups.

Combatants – veterans of the 1992 war – rehearsed it in the summer. Then there were riots in Chisinau, they promised to cut off the heads of the separatists. But then they met with a serious rebuff from the Moldovan police.

Now the combatants say that they will block all the polling stations that are organized for the Transnistrian vote. So the danger is real.

…

Moreover, the security structures of Moldova and Transnistria are simultaneously on the line of contact in the security zone. If riots break out there, both must react. A very serious and dangerous situation will develop.

And this is the area of ​​responsibility of Russia. After all, the peacekeeping operation is carried out under its auspices. They have been trying to squeeze the Russian peacekeeping operation out of Moldova for a decade.

And in the event of large-scale unrest, it will immediately be possible to say that this is an ineffective peacekeeping operation. See what's going on at the border. How did they let this happen?

– Is it possible that the situation will be brought to the South Ossetian scenario, what do you think? If such events begin, then Russia will be forced to react to this by force. Is Russia being pushed to this?

– Maybe they are pushing to do just that. Pridnestrovian Foreign Minister Vitaly Ignatiev posted on Facebook a message from Oleg Belyakov, co-chairman of the Pridnestrovian side in the Joint Control Commission. (source)
Russia looking to move into this area is just another attempt to do a Soviet-style "spread" like what happened last century across Eastern Europe and Central Asia.
History is dangerously close to repeating, once again, and this applies to all sides