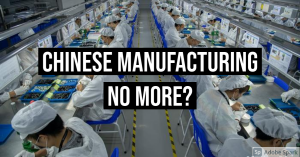 I have written on Shoebat.com that major corporations are looking to diversify away from China as a result of US-China tensions that are leading towards a "hot" war in the future. While there is only a "trade war" right now, trade wars historically lead to "hot" wars, and given China's patterns of past behavior, it is likely that she would have no problem confiscating factories or production if there was a conflict with the US, as that would cause damage to the supply chains for American businesses. As a result, the move toward leaving by American companies is not just a "dislike" of China, but an economic trend as a sign of the real political trends for the future that business, as economics precedes politics in every case, naturally must acknowledge for its own survival.
Business Insider reports that as a part of this trend, Apple corporation, which has already been working on plans to diversify some production to India, is now officially moving out production of some iPad and MacBook assembly from China to Vietnam.
Major Apple supplier Foxconn is moving some iPad and MacBook assembly to Vietnam from China at the request of Apple, a person with knowledge of the plan told Reuters, as the US firm diversifies production to minimize the impact of a US-China trade war.

The development comes as the outgoing administration of President Donald Trump encourages US firms to shift production out of China. During Trump's tenure, the United States has targeted made-in-China electronics for higher import tariffs, and restricted supplies of components produced using US technology to Chinese firms it deems a national security risk.

…

"The move was requested by Apple," the person said. "It wants to diversify production following the trade war."

Foxconn said in statement: "As a matter of company policy, and for reasons of commercial sensitivity, we do not comment on any aspect of our work for any customer or their products".

Apple did not immediately respond to a request for comment.

Taiwan's Foxconn, formally Hon Hai Precision Industry Co Ltd, on Tuesday announced a $270 million investment to set up a new subsidiary called FuKang Technology Co Ltd — a move the person said was aimed at supporting the Vietnam expansion.

Shifting iPad production to Vietnam will mark the first time Foxconn has assembled the device outside of China.

This isn't the first indication we've had that Apple is looking to seed its global supply chain beyond China.

The firm already plans to spend up to $1 billion expanding an iPhone assembly plant in India as "strongly requested" by Apple to diversify production beyond China, people with direct knowledge of the matter told Reuters in July.

Foxconn and peers such as Pegatron Corp are also considering building plants in Mexico, people with knowledge of the matter said, as Washington promotes near-shoring production. (source)
This trend is not limited to Apple or technology. No matter what the sector is, expect to see a significant diversification from China over the next five years, since the message will be simple- just as American companies who did not "outsource" because of changes to the laws (free trade) would not survive during the 1990s, so it will be that companies outsourced to China who do not change country to one other than China will likely find themselves potentially unable to survive, except this time it will be due to political issues up to and possibly including the seizure of their production means by the government for nationalistic reasons. Countries that seem to be "up and coming" for business ventrures are those in southeastern Asia, India, Central America, and while much less so, certain western African nations such as Nigeria and Ghana show some potential as well.
But no matter what happens, what one is seeing here is political and not a new thing, as it has been going on for a long time and is going to have a major economic impact on China. A trend to watch for is what China does about it- will they simply stay silent, or will they make it openly harder for American companies to leave, thus potentially exacerbating and economic crisis into a political crisis, which could get quickly out of hand? This remains to be seen.