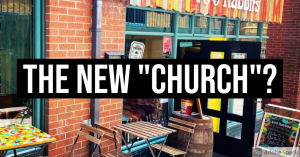 The COVID pandemic has created many unfortunate situations for business so that people who work hard have been forced into bankruptcy or closing their business to try and save what they have left. It has already been reported, for example, that one-third of small businesses in New Jersey have closed because of pandemic-related economic consequences. But some businesses are fighting to stay open, such as one reported by the New York Post that a Tequila bar in England is applying to become a church so it could avoid the lockdown rules.
A tequila bar owner is trying to get around the UK's strict coronavirus restrictions by adding some holy to his spirits — and registering as a church.

James Aspell, 34, posted photos of his formal application to make his shuttered "400 Rabbits Tequila and Mezcal Cocktail Bar" in Nottingham an official place of meeting for religious worship.

He was also shown smiling and giving the thumbs-up while mailing the form for the now-reverentially named Church of the Four Hundred Rabbits.

To get approved, he now needs people to sign up and say they are part of his congregation — telling Nottinghamshire Live that they can register as a "bunny believer" or "reverend of the righteous rabbits."

"With places of worship allowed to open in all tiers we thought f–k it let's start a religion!" he explained on Facebook to his new congregation, who would otherwise be barred under the UK's strict lockdown rules, which would only allow him to serve takeout if he sold food.

"Can't be that hard can it!" he added, promising "Congregation daily till late."

Aspell told Nottinghamshire Live that while it started as a joke it "comes from a serious place" at his anger over "the hypocrisy" of strict lockdowns he thinks are unfairly hurting bars.

"This time of year it's usually all guns blazing but instead I'm sat at home putting my Christmas decorations up," he complained of the popular bar he opened five years ago.

He admits that even if his house of worship application got approved, he would likely not be allowed to serve booze. Instead, Aspell hopes "to adapt in a different way and have some fun with it."

"We're not doing this to offend anybody or break any rules," he stressed.

Judging by social media for his bar — sorry, church — he has an eager congregation waiting to sip his holy water.

"The only reason I'd take up a religion. I'm in!" Leigh Harrison replied to his post, while Rebecca Barker said, "I want to worship at the church of mezcal."

"The only religion I would get on board with," Ken Scott said, offering "hopes and prayers for your salvation and delicious drinks."

"You might just save 2020," George Maroda Phillips told Aspell, while Terry James Hayfield suggested the tequila bar would be "a spiritual place of healing for sure." (source)
Now the issue here that is of interest is not so much what seems obvious, funny, and true to a point in the same item, which is a bar becoming a church to avoid laws. However, there is a point to be made in this about the trends of religious decline and the rise of the new secularism in combination with paganism, albeit in a contemporary expression.
Religion in the US and especially in Europe is in serious decline. Christianity is the hardest hit, but all religions save for "nothing" and forms of "paganism" are losing adherents fast and are unable to replace them. The long and often called claims of an "evangelical boom", so-to-speak happening were all fantasies based on nothing more than emotional bursts of passion to the world. The Catholic Church has been the hardest hit, but also the least hit because her issues with decline started a long time ago and were known to the whole world, and she was attacked for them. Thus the Church is not really "declining" more but rather is in a position that is known, has been known, and because of this, can adjust herself for the future. She is for all purposes in the best position of all the Churches because of this in combination with her size, history, and most importantly, the fact that Matthew's Gospel explicitly notes succor will be granted to her.
The Evangelical situation is far worse. Mainline protestantism is waiting for the Boomers to die so the sect can pass away with them for all practical purposes, and evangelicalism has taken a huge hit that has shocked them due to COVID and this may become in American history books noted as a kind of "death blow" to them long term, as many will not be able to financially recover, and even if this happens, many people are not coming back and are choosing to secularize.
What is religion to the modern American? It is arguably a form of self-worship for some and tribe worship for others, but no real belief in a God Who is absolute, or in absolute authority and truth save for what satisfies individual comforts. God is something of a concept for many and not cared about by others, and overall this trend is likely going to continue unless a major interruption to this pattern happens in the near future. Indeed, socializing with friends and doing "fun" things are more an act of worship to these people because they project their experiences of what is good into them and reflect them back to themselves as the purpose for their being. The idea of "Sunday Night Football", a truly Boomer thing, as being a kind of "second church" is absolutely true because after worshipping God, Americans then turn to worship their particular team of people trying to get a ball over a line with arguably more passion than they do when before God.
I am not saying that football is bad or 'sinful', that one needs to "have passion" in Church to be considered a 'good Christian', or that one should not socialize with friends or enjoy the good things of life. What I speak of is an alignment of priorities accepted as true and continually worked and being put more perfectly into practice with each day. I speak of Matthew 621, noting the words of Christ that "where your treasure is, there your heart will be also", and that while in life all have choices, one needs to strive to choose God and to organize life in such a manner that one's actions reflect this choice and the consequences that it comes with.
This bar may apply to become a church, and it is unknown at this point if it will be rewarded with that title. However, it would not be, per modern standards, "incorrect" to do this because of the above. I am NOT saying at all that it should be rewarded, or that bars are all bad places. I am saying that for many Americans, as St. Paul warned, are those "whose God is their belly, and whose glory is in their shame, who mind earthly things" (Philippians 3:19), and thus an establishment for drinking alcohol to be designated as a 'church' would be a fitting proposition for many in society, yet while the same individuals who may support it would also refuse to go to a real Church because they do not want to worship God or seek what is good and true.
However, that also comes with its own and far more serious and long enduring consequences.