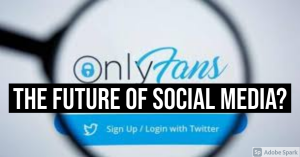 The evolution of social media is a major trend for the future, given as more popular outlets becomes "censored" because of "hate speech", simple "pay to see" content of more "controversial" things may become a thing of the future. That said, it is of interest that as the Japan Times notes, OnlyFans has noted this, saying the website, famous for peddling disrobed women in the middle of scandalous actions, is seeing a rise in non-explicit pay-to-see for a small fee content.
Along the way, OnlyFans has grown into one of the biggest media businesses hiding in plain sight. The company has 85 million users, upward of 1 million creators, and will generate more than $2 billion in sales this year, of which it keeps about 20%. That puts the site on track for $400 million in annual net sales — dwarfing Patreon, a platform devoted to helping creative types monetize their work, which is valued at more than $1.2 billion. "OnlyFans is revolutionizing creator and fan relations," Stokely said.

What OnlyFans customers crave, said Stokely, is a level of interaction and intimacy with the creator that they don't typically get on Instagram or Twitter, where celebrities tend to share the most manicured version of themselves. But to keep gaining more mainstream appeal, the company will likely have to shake off its reputation as a den of online debauchery and assuage safety concerns about the site.

…

Many of the top creators spend a lot of time communicating directly with fans. Visitors are encouraged to provide a tip if they want a personalized message.

Stokely has tried for years to get all types of creators to use the site. "It works as a great bolt-on to free social media," he said. "One of our selling pitches is, 'Look, you've got a million followers on Instagram, if just 1% of them pay for Only Fans….'" The average creator charges about $12 per subscriber. By Stokely's math, if 1% of Kim Kardashian's Instagram followers paid for OnlyFans, she'd make $23 million a month on the site.

Until this year, the business was growing at a steady pace. The pandemic has boosted it to new heights thanks to people who are out of work and looking for a new way to make money at a time when everyone is stuck at home and desperate to be entertained. Strippers and porn stars eager to make up for their lost earnings have flocked to OnlyFans, while regular strip-club customers have found a new place to get their jolt of excitement.

But it isn't just the adult entertainers who have given OnlyFans a try. Musicians The Dream and Swae Lee have used it to promote new music. Actress Bella Thorne hopped on the site and made $1 million in one day. Drag queen Shea Coulee has filmed herself doing makeup before performances. And social media personality YesJulz has used it to share fitness workouts.

After hearing about the service from some friends, Cardi B, a former stripper and reality-TV star turned multiplatinum rapper, reached out to her record label and to OnlyFans about setting up an account. "She had a vision for it," said Julie Greenwald, the co-head of Atlantic Records. "For her, she thinks, 'Who are my fans and how do I make sure I am delivering?'"

Stokely is now rushing to capitalize on the site's growing popularity. The company, which is based in London, is setting up new offices in Asia and Latin America. It is also planning to create a new online streaming service called OFTV, which will feature exclusive content such as creator-driven series and personal interviews with OnlyFans personalities. And how will OnlyFans appeal to mainstream performers who might blanch at the thought of working with a site associated with adult entertainment?

"I'd just repeat that since we launched, we've always welcomed all creators," said Stokely. "The creator community is incredibly diverse. There are just so many creators from so many genres, whether it's gaming, fitness, fashion, beauty." (source)
I have said many times before that trends in the explicit "entertainment" industry often become reality, for good or for bad. That said, in the case of social media, OnlyFans is predicting a trend for the future.
Expect to see many social media empires be built through OnlyFans type scenarios, redefining the nature of "community". Likewise, it may be actually, for now, a "safe" venue for future people on social media with a following who want to preserve themselves amid increasing censorship.
Make no mistake, I am NOT endorsing OnlyFans in any way. I am saying that the idea of "pay to see" in combination with free and pay content is probably the way of the future, both from a market trend and social trend viewpoint, and that those who known how to embrace this well for the future will fare well. It is a major trend that should be watched for as a way to avoid censorship, connect with 'fans', and to generate interest in a topic, especially those which may be of a publicly unacceptable nature.