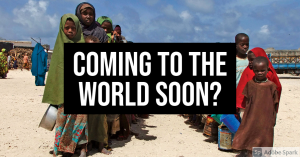 A lot of people are hoping for better things in 2021. However, according to US News reporting by way of Reuters, this may not be the case, as while there are famines taking place right now throughout the world, there may be in a sense a global food shortage leading to mass famines.
Next year is shaping up to be a humanitarian catastrophe and rich countries must not trample poor countries in a "stampede for vaccines" to combat the coronavirus pandemic, top U.N. officials told the 193-member U.N. General Assembly on Friday.

World Food Programme (WFP) chief David Beasley and World Health Organization (WHO) head Tedros Adhanom Ghebreyesus spoke during a special meeting on COVID-19, which emerged in China late last year and has so far infected 65 million globally.

The pandemic, measures taken by countries to try to stop its spread and the economic impact have fueled a 40% increase in the number of people needing humanitarian help, the United Nations said earlier this week. It has appealed for $35 billion in aid funding.

"2021 is literally going to be catastrophic based on what we're seeing at this stage of the game," said Beasley, adding that for a dozen countries, famine is "knocking on the door."

He said 2021 was likely to be "the worst humanitarian crisis year since the beginning of the United Nations" 75 years ago and "we're not going to be able to fund everything … so we have to prioritize, as I say, the icebergs in front of the Titanic." (source)
Now this is definitely a trend to watch for, especially considering that the UK Guardian is already reporting that UK supermarkets are being told to stock up because of potential both BREXIT and COVID related food supply chain disruptions, and that both PBS and CNN are reporting similar food insecurity in the US.
Likewise, the AP reports that South Sudan is in a famine right now, and Yemen is also on the edge of going back into a major famine.
People want a better 2021. I want a better one too. However, the trends do not suggest this, but rather perhaps a year with things worse than COVID to come, and affecting even more people than what the illness did.