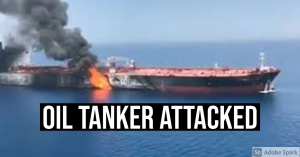 Fortunately no one seems to have been hurt, but the Wall Street Journal reports that an oil tanker with a Singaporean flag was bombed at port Jeddah in Saudi Arabia.
An oil tanker docked at the Saudi port city of Jeddah was struck and suffered an explosion Monday, the ship's owner said, following a string of attacks on the kingdom's oil infrastructure in recent months.

A fire caused by the explosion on the Singapore-flagged BW Rhine was extinguished and all 22 sailors were unhurt, according to Hafnia, which owns and operates the vessel. The company said the ship's hull was damaged in two locations and that some oil could have leaked from the vessel.

Saudi Arabia's energy, ports and security authorities didn't immediately respond to requests for comments on the incident, which occurred after midnight at Jeddah, an important Red Sea port for the kingdom.

The source of the object that hit the ship couldn't be determined.

Previous attacks in the strategic waterway have been blamed on or claimed by Yemen's Houthi rebels, who have been battling a Saudi-led military coalition in a six-year civil war. The U.S.-backed coalition has repeatedly warned of the potential threat to international trade posed by such incidents, which also threaten Saudi Arabia's economic engine.

The Red Sea is a major conduit for oil and other trade flowing from the Middle East to Europe, Asia and North America. About 6.2 million barrels a day of crude and refined petroleum products were shipped through the Bab el-Mandeb strait that separates the Red Sea from the Gulf of Aden in 2018, according to the U.S. Energy Information Administration. (source)
Who bombed the ship? That has not been sure, but it could be any number of actors, from the Houthis to a proxy group acting on behalf of another government, or even an example of 'self-inflicted' terrorism.
Anything is possible here. Nothing more can be said definitively that an attack happened. That said, a trend to watch for in the next decade will be to see a rise in violence against 'indirect' targets such as this leading up to more open and serious conflict.