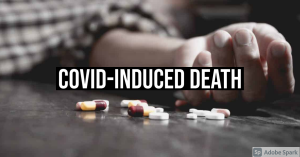 The current pandemic has seen many unfortunate things happen. While I have tended to focus on the economic side in my writings, it is because economics is one of the main reasons that lead to political and from that, inevitably social catastrophe, so in order to understand the process by which change not just happens, but we may see come to be realized among trends, it is important to understand the changing processes around us that disrupt the functioning of existing systems that then affect the lives of real people.
It is well known that America has a problem with drug addiction, mostly as a coping mechanism for the difficulties of life. COVID has just exposed and accelerated this current trend, where by now stripping people of what little income they do have, making them even more desperate and inclined to dangerous behavior. Thus if a man was already on drugs, there is a greater tendency to use more drugs now to cope with more intense problems. Of course it is known that drugs do not stop problems, but only provide temporary escapism, and too many drugs can damage the physical systems of the body and kill a man. Such is what the CDC reports by way of CNN in a new study that found that COVID-related overdose deaths are increasing.
The US has seen a substantial increase in fatal drug overdoses and set a record for deaths from overdoses in the year that ended in May, the Centers for Disease Control and Prevention reported Thursday.

The worst of the deaths coincide with closures and other measures taken to control the pandemic, the CDC said in a health alert.

Data from the CDC's National Center for Health Statistics (NCHS) indicates that approximately 81,230 drug overdose deaths occurred in the US in that period.

"This represents a worsening of the drug overdose epidemic in the United States and is the largest number of drug overdoses for a 12-month period ever recorded," the CDC alert said.

The most common are overdoses from synthetic opioids such as illicitly manufactured fentanyl. But there's also an increase in deaths from drugs such as methamphetamine and cocaine, the CDC added.

And the numbers look grim. "The 12-month count of synthetic opioid deaths increased 38.4% from the 12 months ending in June 2019 compared with the 12 months ending in May 2020," the CDC said.

It noted a 98% increase in synthetic opioid deaths in 10 Western states, coinciding with greater availability of these drugs in that region. "After declining 4.1% from 2017 to 2018, the number of overdose deaths increased 18.2% from the 12 months ending in June 2019 to the 12 months ending in May 2020," it added.

The agency says people should be educated about the risks of using drugs alone.

"These newly released provisional fatal overdose data, coupled with the known disruption to public health, health care, and social services as a result of the Covid-19 pandemic and related mitigation measures, highlight the need for essential services to remain accessible for those most at risk of overdose and the need to expand prevention and response activities," the agency added. (source)
Considering that many drugs are being legalized at this time, there is a possibility that one may see this trend increase in the future. The same can be said about alcohol-related deaths, and potentially even obesity, as food overconsumption is another common coping mechanism that people may use.
Whatever vice one chooses to use, ultimately, and while certain 'habits' do indeed help people through difficult times, one cannot escape the reality that society is fundamentally changing, and the COVID pandemic is but a push that made conditions already long established go into motion. Substance abuse, especially of potentially dangerous things such as drugs, will not solve one's problems, but only make them worse.