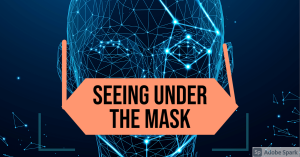 The use of artificial intelligence and other forms of supercomputing is a major trend for the future that in combination with biometric means will likely reshape society in many different ways. One of those ways is in facial recognition technology, which has become far more accurate over the years owing to 'machine learning. However, it is still far from accurate, and things such as wearing a face mask can greatly impact the effectiveness of such technologies.
But that may be changing, for as NextGov reports, the COVID pandemic has provided a chance for scientists to adjust and show notable improvements in technologies to detect a person's face though it may be covered by a mask.
Perhaps the most-worn accessories of 2020, face masks mark an unexpected new constant in people's lives providing necessary protection against COVID-19—but they're also known to pose some trouble for contemporary facial recognition systems.

The Homeland Security Department, one of the government's biggest biometrics systems users, is now steering research to confront the complexities limiting existing technology and help push forward tools to safely verify people's identities at security checkpoints in a pandemic.

Initial results from one recent effort "are actually quite promising," according to Arun Vemury, director of DHS' Biometric and Identity Technology Center.

"We're getting to the point with this technology, where at least from the preliminary results, it looks like there's some combinations of biometric acquisition systems, the camera systems and the matching algorithms—when you combine them together, you could match eight or nine out of 10 people without asking them to remove their masks," Vemury told Nextgov during a recent interview. "This means that for the vast majority of people in airports, they might not have to remove their masks anymore to even go through the security checks, and we could do a really good job of still matching them. So, I think it's very promising from that perspective. Is it 100%? Is it perfect? No. But it reduces the number of people who potentially have to take their masks off."

Those outcomes Vemury pointed to emerged from the agency's third annual Biometric Technology Rally, which was held over three weeks in late September and early October—and they also build off of a recent report led by the National Institutes of Science and Technology. The study was released in July as part of a planned series NIST's Face Recognition Vendor Test, or FRVT, program is completing to assess the performance of face recognition algorithms on faces partially hidden by masks. For it, researchers reviewed almost 100 facial recognition systems and found that, at least for now, masks generally disrupt the tech's accuracy.

Before COVID-19 hit, Vemury and his team were originally planning their next biometric rally, which they'd decided would evaluate biometrics systems' ability to process people in small groups, to see how they might perform on families or with others, as many naturally travel. After the pandemic surfaced they shifted to plans for remote operations—and this more timely topic. (source)
For years, all one would need to do to cover one's face is to hide it with a mask. However, this pandemic is proving that such actions may no longer be sufficient to fully cover one's identity. This trend may create more 'opportunities' for catching criminals, but at the same time, will also require that those who want to be 'hidden' for whatever reason will have to take more aggressive measures to do this, such as wearing lifelike face masks or impressions, and then putting a mask on those.
Regardless of what happens with this, it will be interesting to watch, as it is a part of the further de-anonymization of the world and increasingly the creation of a network where people can be identified anywhere, in any place, at any time, and then having done so, potentially implicate people, even innocent ones, for questionable accusations.
In other words, this may be part of the larger trend of creating in the Western world what exists in China, but less obvious initially and most likely far more insidious.