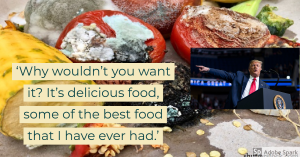 Right now, there is another controversy brewing between the US and China, which Zero Hedge reports is over China not purchasing large quantities of US grain products such as corn or soy.
Around the same time President Trump and National Economic Council director Larry Kudlow were pumping jobs, stocks, and the V-shaped recovery on national television on Thursday morning – Reuters quoted a U.S. Agriculture Department (USDA) report that said China booked its first U.S. sales of corn and soybean since it asked suppliers (nine days ago) to guarantee shipments were not contaminated with COVID-19.

Readers may recall, from day one of the trade deal being signed – we outlined how the number of proposed agricultural goods exported to China under the agreement was unrealistic.

China's purchases of US farm goods since the trade deal was signed in mid-January has been underwhelming. With today's purchases, we're surprised the president or Kudlow didn't pump the numbers, rather Kudlow said: "We are very unhappy with China."

Reuters, quoting the USDA report, said China's "private exporters reported the sale of 202,000 tonnes of corn and 126,000 tonnes of soybeans for delivery during the 2020/21 marketing year that begins on Sept. 1."

For more color on China not upholding trade commitments under the deal – we turn to Peterson Institute for International Economics (PIIE). Their trade deal tracker (latest data from April), shows China's purchases under the trade agreement has been significantly below agreed-upon levels.

Even before the trade deal was signed – we outlined in December, vessel tracking data didn't support China was purchasing farm goods from the U.S. – instead, they abandoned North American markets for Latin American ones. (source)
This is a very interesting article, and like much about the agricultural wars between the US and China, there is potentially a lot at stake here.
However, if you are able to, I want you to take a drive to the countryside and look around at what is growing in the fields. Unless one lives in California, most of the crops that one will see (barring small specialty or regional farms) are either corn or soybean plants. This is because as summer is right now, those two core and likewise "cash" crops are central to both US domestic as well as foreign policy. A lot of that corn and soy will not stay in the US, but will be sent to China and other nations.
This story talks about how China is buying corn from South America- which due to the geography and season patterns, is already continuing to sell of the remainders of what crop has been harvested recently. The American crop cannot be sold because it is still growing right now as we speak in fields on farmlands across America.
So the question is, what corn is the US selling to China? If she is selling corn, it has to be corn from the last farming season- the one before the most recent harvest from South America. It is nowhere near fresh, and is probably almost a year old.
Think about it- why is China or any nation going to buy old corn that may be of questionable quality when it can get fresh corn from a recent harvest? Very few people would, and what they do buy will likely be only a small amount, since they will take what is good and leave the rest because it is not worth buying just as much as one would not buy month-old milk when one can get a fresh gallon.
This is what makes the talk from the US about China's 'not good' purchasing so interesting, because this is just attempting to exploit an economic reality for a political cause, that is, to say that China' desire not to buy old grains sitting for almost a year unpurchased is somehow a sign of dishonesty and hatred for America, instead of business that anybody would conduct. Likewise, one should remember that the current low purchasing is also exacerbated by the fact that last year, as we reported on Shoebat.com, massive decimation to the world's pig farms on account of swine flu means that there are not large numbers of swine who need to consume grain products, and thus a much smaller demand for the commodity is inevitable.
There is nothing to see here outside of the typical political games that nations try to play on each other and which eventually turn into trade wars and once those become serious enough, full out wars with soldiers and real deaths.