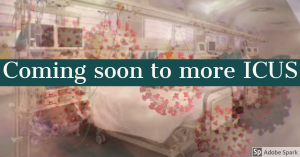 "It's not a threat."
"Stop worrying about it."
"This is just a meme that is all."
As the COVID-19 coronavirus spreads, it is causing a lot of illness or a lot of people, as according to a report from CNN, 56 Florida ICUs have hit capacity due to the virus, with potentially more on the way.
The worsening coronavirus pandemic hit a series of somber peaks across the United States on Tuesday, renewing fears that more hospitals could be overloaded with Covid-19 patients.

At least 56 intensive care units in Florida hospitals reached capacity on Tuesday, state officials said. Another 35 hospitals show ICU bed availability of 10% or less, according to the Agency for Health Care Administration in that state.

Georgia surpassed 100,000 reported coronavirus cases, becoming the ninth state to pass the mark.

In California, the number of hospitalizations across the state were at an all-time high and the virus positivity rate jumped more than 2% in Los Angeles.

As nearly 3 million confirmed coronavirus cases were reported in the US, the need for testing has increased. That has led federal officials to set up new testing sites in Florida, Louisiana and Texas. But major diagnostic companies have said they are facing testing delays.

Hospitals in Texas and Florida are flooded with critical Covid-19 patients and some local and state officials have made face coverings mandatory.

Last week, the country averaged just under 50,000 new cases daily — the highest rate recorded, and twice as high as a month ago.

Texas reported more than 10,000 new cases on Tuesday, marking the highest single day total in the state since the pandemic began.

Dr. Anthony Fauci, the nation's top infectious disease expert, said Tuesday the death rate among coronavirus patients has lowered but Americans shouldn't take comfort in it.

"It's a false narrative to take comfort in a lower rate of death," Fauci, the director of the National Institute of Allergy and Infectious Diseases, said during a livestream with Sen. Doug Jones of Alabama. "There's so many other things that are very dangerous and bad about this virus, don't get yourself into false complacency."

More than 131,200 people in the US have died from coronavirus, according to data from Johns Hopkins University.

An influential coronavirus model often cited by the White House increased its projections for US deaths on Tuesday and it's now forecasting more than 208,000 deaths by November. (source)
It is true that these numbers are high in Florida likely due to the large elderly population. However, elderly or not, it does not lessen the importance of using caution and good judgement, especially when in public areas.
Please stay safe, and remember to take precautions, for all pandemics pass in time, but while they are present, it is always important to take extra safety measures, for a little bit of work saves a lot of trouble in the future.