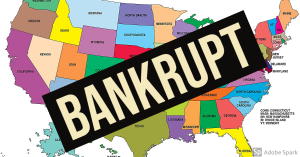 I have been constantly warning on Shoebat.com that a wave of bankruptcies was imminent, and that it will have major impacts on the economic future of the country. Bloomberg is now reporting that over one-hundred and growing major businesses and employers have filed for bankruptcy.
Retailers, airlines, restaurants. But also sports leagues, a cannabis company and an archdiocese plagued by sex-abuse allegations. These are some of the more than 120 companies that declared bankruptcy in the U.S. this year and blamed Covid-19 in part for their demise.

Many were in deep financial trouble even before governors ordered non-essential businesses shut to help contain the spread of the virus. Most will reorganize and emerge from court smaller and less-indebted. The hardest hit, however, are selling off assets and closing for good.

They include plenty of big, iconic names. Hertz and J.C. Penney and now Brooks Brothers, too. The vast bulk, though, are small and medium-sized businesses scattered across the country. Their downfall might not normally garner much attention, but it does underscore the full extent of the damage Covid-19 has inflicted on the economy.

The list compiled for this story is based on court records, statements or interviews in which company executives explicitly linked the virus to their filing. It is only a snapshot of the thousands of corporate entities that have landed in bankruptcy court since the pandemic took hold in March. (source)
One can read the full list here, but the point is not simply about having a long list. It is about the fact that everybody- from the big man to the small guy -is absolutely broke right now and there is nothing that anybody can do about it because it is tied to the debt issues.
The country is going broke- it already actually is broke -ad there is nothing that can be stopped.
This is going to impact all people, and it is the reason why I keep warning that as lartger businesses close, it is going to absolutely crush the smaller ones.
Please work as much as you can while there is still time, because there will be a point when economic problems will become far worse and one may have to rely on what one has and not what one hopes to acquire in the future.