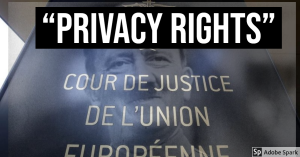 Economics always precedes politics, and as such trade wars often precede 'hot wars' with soldiers and guns. With data being the currency of the twenty-first century and the free flow of data vital to economic interchange, the Associated Press reports in a major ruling from the European Court of Justice that the current arrangement for US-EU data interchange is invalid because it does not protect the 'privacy rights' of Europeans sufficiently.
The European Union's top court ruled Thursday that an agreement that allows thousands of companies — from tech giants to small financial firms — to transfer data to the United States is invalid because the American government can snoop on people's data.

The ruling to invalidate Privacy Shield will likely complicate business for around 5,000 companies, and it could require regulators to vet any new data transfers to make sure Europeans' personal information remains protected according to the EU's stringent standards.

It will no longer simply be assumed that tech companies like Facebook will adequately protect the privacy of its European users' data when it sends it to the U.S. Rather, the EU and U.S. will likely have to find a new agreement that guarantees that Europeans' data is afforded the same privacy protection in the U.S. as it is in the EU.

Privacy activists hailed the court ruling as a major victory, while business groups worried about the potential to disrupt commerce, depending on how the ruling is implemented. Companies like Facebook routinely move such data among their servers around the world and the practice underpins billions of dollars in business.

"It is clear that the U.S. will have to seriously change their surveillance laws, if U.S. companies want to continue to play a major role on the EU market," said Max Schrems, an Austrian activist whose complaints about the handling of his Facebook data triggered the ruling after years of legal procedures.

He first filed a complaint in 2013, after former U.S. National Security Agency contractor Edward Snowden revealed that the American government was snooping on people's online data and communications. The revelations included detail on how Facebook gave U.S. security agencies access to the personal data of Europeans.

Though the legal case was triggered by concerns over Facebook in particular, it could have far-reaching implications not only for tech companies but also businesses in sectors like finance and the auto industry.

Things like emails or hotel reservations between the U.S. and Europe would not be affected because there is no way to conduct that business without data crossing the border. But in other cases, such as with Facebook, for example, messages between Europeans would have to stay in Europe, which can be complicated and require their platform to be split up, Schrems said.

Companies use legal mechanisms called standard contractual clauses that force businesses to abide by EU privacy standards when transferring messages, photos and other information. The clauses — which are stock terms and conditions — are used to ensure the EU rules are maintained when data leaves the bloc.

The Court of Justice of the EU ruled Thursday that those clauses are still valid in principle. However, it declared invalid the Privacy Shield agreement between the U.S. and EU on data transfers over concerns that the U.S. can demand access to consumer data for national security reasons.

It said that in cases where there are concerns about data privacy, EU regulators should vet, and if needed block, the transfer of data. That raises the prospect that EU regulators will block Facebook, for example, from transferring any more European data to the U.S.

The European Commission said it was studying the ruling and stressed that a system is needed to allow data transfers while also protecting privacy. It said it was in touch with its counterparts in the U.S. on how to proceed.

"I see it as an opportunity to engage in solutions that reflect the values that we share as democratic societies," European Commission Vice President Vera Jourova said.

U.S. Secretary of Commerce Wilbur Ross said the U.S. was "deeply disappointed" by the ruling and we "hope to be able to limit the negative consequences to the $7.1 trillion trans-Atlantic economic relationship."

Experts said the full impact on businesses will largely depend on how authorities respond.

"EU regulators will need to adopt a pragmatic approach to enforcement, allowing businesses a period of grace in which to implement alternative arrangements," said Bridget Treacy, data privacy partner at Hunton Andrews Kurth LLP in London.

Government surveillance of personal data is something the U.S. in its turn accuses China of doing through tech companies like Huawei. And it highlights the growing importance of data as the basis of modern business and politics.

Data drives much of the world's largest companies, like Facebook, Google, Alibaba and Amazon, and is also prized for national security to prevent extremist attacks, for example. Mining large sets of people's data has also become crucial to winning elections, such as the use of Facebook data for Donald Trump's presidential victory in 2016.

Alexandre Roure, a senior manager at Computer & Communications Industry Association, said the decision "creates legal uncertainty for the thousands of large and small companies on both sides of the Atlantic that rely on Privacy Shield for their daily commercial data transfers.

"We trust that EU and U.S. decision-makers will swiftly develop a sustainable solution, in line with EU law, to ensure the continuation of data flows which underpins the trans-Atlantic economy." (source)
Under the current standards, European data protection laws states that data can only be transferred out of the European Union to the United States or elsewhere if 'appropriate safeguards' are in place. This ruling from the ECJ says that US 'surveillance programs' are not limited to what is strictly necessary", which it classified as requirements related to 'US national security,' 'public interest', and l'aw enforcement'
Some argue that the striking down of the current schema, called Privacy Shield, will be good for 'human rights', and some say that it will compel the US to create a more 'comprehensive' privacy and data protection framework, enable both Americans and Europeans equal access to legal action in the case of rights violations due to unlawful data processing in the US or by US authorities; and that it would compel the US to reform its surveillance practices.
But what does this really do? Is it really going to ensure the 'protection of privacy?'
Now it is true that there has been a lot of abuse from the US regarding privacy 'rights'- which fundamentally do not exist any more because of the Internet, and there is no real way to, under the current schema, revive them. This ruling does not actually help revive anything, and if one thinks that Germany is going to be any more trustworthy than the US, one is simply deceiving oneself, for as with any nations that has a long history or a contemporary desire to seek power- be it China, Germany, India, Japan, Russia, or the US -there is going to be spying, and the idea of "privacy" in such cases should be considered not a legitimate concern, but rather a battering ram used to justify the abuse of power by one side and not another. It is similar to the anti-Islam movements, for while one cannot say that Islam is good and certainly it is evil, many of those who criticize Islam do not do so out of the objective good for the Muslim people, but rather as a means to realize an even more nefarious end, which are nationalism and contemporary darwinism.
While the future of how this law will affect business relations between the US and Europe in a major way. Current contractual agreements between American companies and European nations, called standard contractual clauses (SCCs), could be overidden using this ruling with the justification of "privacy", thus making it much harder for American companies to do business with European nations, and putting the US at a trade disadvantange. Likewise, the data subject to transfer rules could include communications like emails financial records, business files, human resources materials, employee data, marketing databases, and customer records. It could even go so far as to include social media posts, meaning that a posting on Facebook could create a legally tenuous situation between Europe and the US if it was found to be a 'violation' of 'privacy rights'.
For example, consider years ago at Shoebat.com when Ted interviewed Martin Sellner, an Austrian activists with ties to National Socialists and Pagans. Martin Sellner became very angry with Ted because Ted filmed and intended to post the interview, to which Martin Sellner threatened Ted and Ted correctly noted that this is not Austria, but America, and we don't have to listen to your laws. With these new laws, it could be possible that Ted's interview might be blocked or banned from European Union nations in the name of claimed "privacy rights", yet the fact is that such a complaint at the time had nothing to do with privacy, but with the fact that he was exposed for his connections and was unable to hide it legally.
Banned in Europe? This video could be potentially banned under the new European data protection laws.
There are a lot of complaints that people have about abuse from the Americans and the problems of the American Empire, and they should be exposed. However, the fact is that the US has also enabled many good things to happen, one of which is a freer flow of information interchange for all people, and while abuses have happened and there is much work to be done, as I noted earlier using Islam as the example, it is equally wrong to use one real issue to legitimize the same abuses but by a different person.
One could consider this to be is a very bold move by Europe against the US, since what we are seeing here looks suspiciously like a privacy trade war, where Europe is saying their data standards can be trusted but those in the US cannot. Specifically, since the case was filed through an Austrian activist, and given that Germany is the powerhouse of Europe and has expressed ambitions towards nationalism in recent years as well as has a long history of nationalist violence, is a German move against the US.
Germany does not like the US. She is one of the largest economies in the world, and she wants Europe to become a world power again. Some of her complaints are legitimate and of good concern, but one must also remember that in the last hundred years, twice Germany rose up and plunged the world into two world wars. Prior to that, one can count the veritable once-a-century uprisings that resulted in bouts of horrific violence be it the sackings of Rome by Germanic tribes, the countless inter-continental wars, the Protestant Revolution, the Thirty Years War, the Partitioning of Poland, the Prussian Empire, or foreign ventures such as the first genocide of the twentieth century in Namibia against the Herrero people that served as the basis for the eugenics programmes of the Third Reich.
This court ruling has nothing to do with "privacy" at all, and while American companies have abused their positions, one may want to think of the current situation such as what happened in France leading up to the French Revolution- the king may have done a poor job for a long time, but the Revolution that happened was far worse since it hurt more people than it helped and caused far more problems whose effects still endure to this day in France.
It is easy to focus on one evil, only to ignore the evil that is using another evil to hide itself, and then to defeat the first evil only to realize the second evil was present all along and be unable to stand against it when one has to.