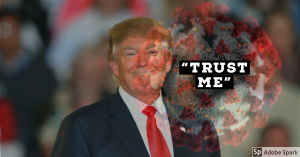 Propaganda is a part of all governments, and while it can in certain cases serve a constructive purpose, it often has a negative association with attempting to force a lie to be accepted as a "truth", and there are many ways that one can do this. Thus it is with interest that the Trump administration is demanding to see all COVID-19 data before it passes to the CDC as MSN News reports.
Hospital data on coronavirus patients will now be rerouted to the Trump administration instead of first being sent to the US Centers for Disease Control and Prevention, the Department of Health and Human Services confirmed to CNN on Tuesday.

The move could make data less transparent to the public at a time when the administration is downplaying the spread of the pandemic, and threatens to undermine public confidence that medical data is being presented free of political interference.

Michael Caputo, the assistant secretary for public affairs at the department, confirmed the change first reported by The New York Times earlier in the day, saying in a statement that the "new faster and complete data system is what our nation needs to defeat the coronavirus and the CDC, an operating division of HHS, will certainly participate in this streamlined all-of-government response. They will simply no longer control it."

"The CDC's old hospital data gathering operation once worked well monitoring hospital information across the country, but it's an inadequate system today," Caputo said in the statement.

The Times said hospitals are to begin reporting the data to HHS on Wednesday, noting also that the "database that will receive new information is not open to the public, which could affect the work of scores of researchers, modelers and health officials who rely on C.D.C. data to make projections and crucial decisions."

CNN Chief Medical Correspondent Dr. Sanjay Gupta said the change is "going to lead to more opaqueness" about coronavirus data.

"What logic does this have, other than to take away the data from the epidemiologists that are the best in the world at looking at this data, making sense of it, translating it for people, versus giving it to HHS," he asked on CNN's "New Day" Wednesday morning.

Former CDC acting director Dr. Richard Besser on Wednesday said rerouting hospital data is a "step backwards" for the country's coronavirus response.

"It's another example of CDC being sidelined. Not only should the data be coming to CDC, but CDC should be talking to the public through the media every day," Besser told Gupta in an interview.

He worried that the data going directly to HHS could "be further politicized, and that's the last thing you want."

"One of the nice things about CDC being in Atlanta — being away from Washington — is that we're able to avoid a lot of political pressure that you get in when you're in DC," he said.

Besser appeared to agree with Caputo that systems needed to be modernized, but he added, "the answer to this isn't bypassing CDC; it's working to ensure that the flow is going faster, making sure that they're getting the right data."

The Trump administration continues to grapple with the coronavirus pandemic — which has already claimed the lives of more than 136,000 Americans — in moves that are increasingly being seen as political.

On Tuesday, four former CDC directors blasted the administration's efforts to disregard and politicize guidelines from the agency in a scathing Washington Post op-ed.

The four former CDC officials warned against what they called a "tragic indictment" of the CDC's efforts as President Donald Trump and top coronavirus task force officials seek to reopen the nation's schools.

Trump has said he will "pressure" governors to reopen schools, despite internal documents from the CDC separately obtained by the Times warning that reopening K-12 schools and universities would be the "highest risk" for the spread of the deadly virus.

"Unfortunately, their sound science is being challenged with partisan potshots, sowing confusion and mistrust at a time when the American people need leadership, expertise and clarity. These efforts have even fueled a backlash against public health officials across the country: Public servants have been harassed, threatened and forced to resign when we need them most. This is unconscionable and dangerous," the former CDC officials wrote.

Public health experts, they said: "Face two opponents: covid-19, but also political leaders and others attempting to undermine" the CDC. (source)
Regardless of what one thinks of CNN, the highlighted question in bold above remains at hand- what interest is there in getting the data first other than to be able to manipulate it? Indeed, it is not the Trump administration, but the CDC tasked with determining the health effects of the virus. regardless of one's politics.
It is bad enough that COVID-19 has affected the global economy and caused so many problems. What makes the virus worse are the political effects or attempts to cause political change using the virus as an excuse, which is a point that I have continually referenced.
A lot of people are very angry with Trump's handling of the virus and for a good reason. However, a move such as this is not only unhelpful, but is likely to arouse suspicion, and rightly so.
Politics is not needed right now. What is needed is actual leadership, which is what the American public has been asking for but is not receiving, and cannot expect will be delivered at all, because at the current time, there is no care for the people, just for keeping control over society and giving the illusion that all is well when the truth is that it is not and is going to get worse.
Likewise, please remember to exercise appropriate safety measures, knowing that viruses do not discriminate based on race or politics.