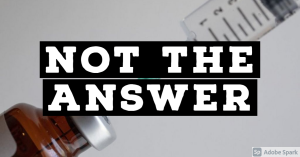 Euthanasia, which is just another form of eugenics, is going to be a dangerous trend for the future in the West, as those who are old will be considered 'disposable' and simply put to death, as though it was a comparatively more 'humane' option than living out to one's natural lifespan.
In Nova Scotia, a case on this was ruled in favor of euthanasia, where and 82-year-old wife lost an appeal in court to stop her 83-year-old husband from committing suicide by euthanasia as the Canadian Broadcasting Corporation reports.
A Nova Scotia Court of Appeal judge has denied a request to shelve a lower court decision that effectively allows a man to go ahead with a medically assisted death, in spite of his wife's efforts to stop him.

The 83-year-old man from Bridgewater, N.S., was assessed by physicians and approved for medical assistance in dying (MAID) earlier this year, but his wife, Katherine, 82, filed for an injunction with the Supreme Court of Nova Scotia, forcing him to cancel his plans.

CBC News is identifying the couple only by the woman's first name to protect their privacy and his ability to access health care. Katherine has threatened to sue health-care providers who help her husband access a medically assisted death.

There is no formal publication ban in the case, but the judges who have ruled on it have all agreed to protect the couple's identities by referring to him as X and Katherine as Y.

While X says he's suffering and near the end of his life because of advanced chronic obstructive pulmonary disease (COPD), his wife says his wish to die is not based on physical illness, but anxiety and mental delusions. She has also expressed a moral opposition to MAID. (source)
Suicide is always a permanent fix to a temporary problem, and even with cases of people who are dying, it is ultimately an issue of morality because God is the author of life, not man, and barring a very serious reason, it is not his place to end it. It is a historical constant that exceptions are made for people who pose extreme threats to civil order (very violent criminals, cannibals, notorious sodomites, and revolutionaries are a few examples), but this is execution, not self-destruction by one's own hand.
Human life matters, and it is not man's place to randomly take it, or to make himself the arbiter of life and death over himself by such barbarity as is the practice of euthanasia.