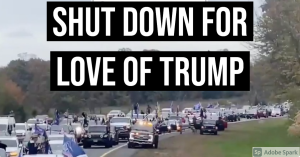 According to a story from Zero Hedge, a line of cars of Trump supporters shut down the Garden State Parkway in New Jersey.
Days after a vehicle convoy of President Trump's supporters escorted the Biden-Harris Bus down a Texas highway, another caravan of Trump supporters shut down a stretch of New Jersey roadway on Sunday.

Videos surfaced on Twitter Sunday afternoon of what appears to be hundreds of vehicles, could be a lot more, of Trump supporters shutting down a stretch of Garden State Parkway in New Jersey.

One Trump supporter could be heard saying: "We shut it down." (source)
NJ: Trump vehicle convoy shuts down the Garden State Parkway. @realDonaldTrump pic.twitter.com/djgi96aZFk

— Breaking911 (@Breaking911) November 1, 2020
As one who is familar with the Parkway, this is quite the accomplishment.
Ask yourself, where are the lines of this for Biden? They are not to be found because Biden's campaign is like him- lose, age-wearied, and on its way out.
It will likely be close for Trump, but he still holds the advantage. The fire may be the last burst from the Boomers, but it is still there, and will burn for at least one last time before it goes out.