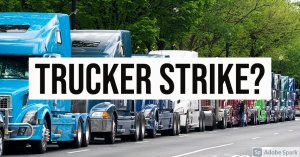 Many news sources, including the trucking reporter Freightwaves, have noted that some truckers are planning a nationwide strike for four days from November 26th to November 29th.
Members of a truckers' group calling itself StopTheTires2020 planned to shut down their trucks Wednesday to make a stand against President-elect Joe Biden's "ban on fracking."

Oregon trucker Jeremy Rewoldt, the organizer of StopTheTires2020, said the U.S. is a capitalist economy and oil is the fuel "she survives on."

"The blue-collar workers are literally the ones that make the wheels turn," Rewoldt wrote in a Facebook post. "Without truck drivers, this country could not survive for long."

Biden has clarified that his proposal only opposes hydraulic fracking on federal lands.

The Facebook group, made up of truck drivers, members of the U.S. military and their families, along with Trump supporters, had more than 51,500 members early Wednesday.

One of the group's first members, who goes by "Lowe Frank" on Facebook, said the group picked Veterans Day to boycott delivery of nonessential supplies to major U.S. cities "as a way to show support for President Trump." Trump has not conceded the presidential election.

"Everyone in their hearts knows that Trump had [the election] stolen from him," the group member told FreightWaves. "It is to honor our fallen military, our forgotten veterans and our truck driving veterans."

According to the U.S. Census Bureau's latest data, of the 3.5 million truck and delivery drivers, one in 10 is a military veteran, which is another reason why the StopTheTires group selected Wednesday to protest. (source)
It will be interesting to see what happens, since trucking is critical to the US economy, and if stopped, it WILL shut down the economy in three days.
I have said if this was to seriously happen, there is a chance the military would intervene, as trucks are regulated not by state but federal law, and because of this if necessary, the military would make package deliveries in order to keep the economy going.
It is doubtful that anything will happen, since most people are barely getting by and cannot risk losing employment, plus the reality that there is no unity among Americans save for wars against others. However, it will still be interesting to watch as this is an acknowledgement that something is wrong in society and that the truckers- the people who make the wheels of the American economy turn -are indeed so angry that some are threatening to stop but most likely will not.