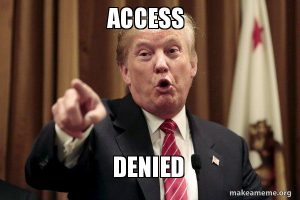 Politico reports that another major law firm representing Trump's election lawsuits has withdrawn their assistance and will not represent him.
Late Thursday night, Columbus-based firm Porter Wright Morris & Arthur notified a federal judge hearing a Trump-filed suit over the election tallies in Pennsylvania that the firm is seeking to pull out of the case.

The development comes as Trump's political opponents have sought to put public pressure on law firms assisting what many legal experts view as a meritless and likely fruitless campaign to try to thwart President-elect Joe Biden from taking office despite the fact that major media outlets have declared Biden the victor and the near-final counts showing Biden thousands of votes ahead in the key battleground states.

Some Trump critics including Republicans affiliated with the Lincoln Project have indicated they planned to pressure the commercial clients of law firms representing the campaign to drop the firms if they continued with the court fight on behalf of the president. In the motion filed at 11:53 p.m. on Thursday, Porter Wright lawyers Ronald Hicks and Carolyn McGee — who work out of the firm's Pittsburgh office — said the campaign was "in the process of retaining and causing other counsel" to take over the case.

The attorneys said they and the campaign had agreed on the withdrawal, but Hicks and McGee were vague about the reason for their exit.
"Plaintiffs and Porter Wright have reached a mutual agreement that Plaintiffs will be best served if Porter Wright withdraws, and current co-counsel and such other counsel as Plaintiffs may choose to engage represent Plaintiffs in this case," the filing said.

It is highly unusual for a major law firm to seek to withdraw its representation of a client in litigation so soon after it commenced. The suit in question, before U.S. District Court Judge Michael Brann in Williamsport, Pa., was filed just four days ago. (source)
The cult of Trump needs to die, because political parties- if they want to survive long-term -cannot be based strictly around individual people, especially those who make promises and do not keep them like Trump has clearly done.
But as the story pointed out, something clearly happened, since it is unusual for a major firm to withdraw like this.
But regardless of what we know or do not know, we do know many things about the state of the economy from the externals, and if anything, that Trump's image and the life of the Republican party is better helped by his loss than his political victory.