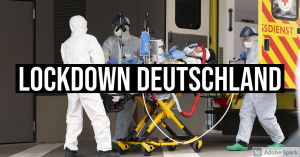 I have reported for a while now on the sayings of Niklas Frank, son of the former Nazi governor of Poland Hans Frank, that if Germany was to have a serious economic recession, the democracy, 'tolerance', and stability that the world associates with Germany would quickly turn into despotism and the nation would return to the aggressive form that she assumed during the First and Second World Wars. This is a serious trend to watch for, and a dangerous one, since if anybody could give an insightful commentary into German history, it would be Mr. Frank.
As I have noted, the COVID crisis has been very serious not because of the disease, but what it has done to a debt-laden world economy in forcing serious debt accounts and fiscal reckonings to be examined. The US is the most serious, but it also includes other nations with large economies, of which Germany is one and will be heavily affected. More lockdowns will most likely not, from an economic perspective, help the world economies fix, but only expose more and force more reckoning with largely unsolvable problems. Given this trend of a "snowballing" effect, it will only push the world further down the road to an economic cliff, culminating most likely in a serious crash of the world's economies (of which the US will be the best poised to survive because of her currency status), which will lead to a political realigment of priorities, and in the case of Germany, likely to economic revitalization through militarization and then war.
As such, it is with great interest that the German government is saying that four to five months of lockdowns may be expected in the near future.
Germans should brace for another 4-5 months of severe measures to halt the rise in coronavirus infections and should not expect the current rules to be eased quickly, Economy Minister Peter Altmaier told weekly Bild am Sonntag.

"We're not out of the woods yet", he said referring to infection numbers. "We cannot afford a yo-yo shutdown with the economy constantly opening and closing."

Germany has imposed a set of measures dubbed a "lockdown light" to rein in the second wave of the pandemic that the country is seeing in common with much of the rest of Europe. While restaurants are closed, schools and shops so far remain open.

Data from the Robert Koch Institute (RKI) for infectious diseases showed on Sunday that the number of confirmed cases in Germany increased by 16,947 to 790,503. Weekend figures tend to be lower as not all data is reported by local authorities.

Altmaier said Germany should be wary of relaxing restrictions too quickly.

"If we don't want days with 50,000 new infections, as was the case in France a few weeks ago, we must see through this and not constantly speculate about which measures can be relaxed again," he told Bild am Sonntag.

"All countries that lifted their restrictions too early have so far paid a high price in terms of human lives lost."

His comments echoed those of other leading German policy makers. Among others, Health Minister Jens Spahn said at an online event of Chancellor Angela Merkel's conservative party on Saturday that hard weeks, possibly even months, lie ahead. (source)
I don't want to underemphasize the serious nature of this disease, because it certainly is serious, or the likelihood of second and third waves of perhaps a more deadly strain. What I do want to emphasize, however, is that no matter what the actual effects caused directly by COVD are, there is a far greater chance that the secondary effects- the economic fallout, the political problems linked to the economic problems -will be far more serious and long-lasting because it has the potential to create a "domino effect", where one falling piece triggers a series of falling pieces not connected to the first one directly but directly affected through the actions of unrelated parts moving at the same time.