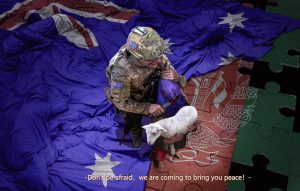 China has a trend of being unable to lie nor bluff, but doing things in her attempts to do either of the two that inevitably backfire on her and make her look like a cruel, savage nation and causes people to not want to associate with her, which furthers her own isolation until eventually she collapses from within and is consumed by foreign powers.
China just did another major thing of this same kind recently when according to Reuters, a major Chinese official deepfaked a photo of an Australian soldier violently butchering an Afghan child, and when called out, the Chinese government refused to apologize, and said it was Australia's fault because they helped America in the war in Afghanistan.
Australia demanded an apology after a senior Chinese official posted a fake image of an Australian soldier holding a knife with blood on it to the throat of an Afghan child, calling it "truly repugnant" and demanding it be taken down.

Prime Minister Scott Morrison called a media briefing to condemn the posting of the image, marking another downturn in deteriorating relations between the two countries.

The Australian government has asked Twitter to remove the image, posted on Monday by China's foreign ministry spokesman Zhao Lijian on his official Twitter account, Morrison said.

"It is utterly outrageous and cannot be justified on any basis," Morrison said. "The Chinese government should be utterly ashamed of this post. It diminishes them in the world's eyes."

Australia has told 13 special forces soldiers they face dismissal in relation to an independent report on alleged unlawful killings in Afghanistan, the head of the country's army said on Friday.

"It is the Australian government who should feel ashamed for their soldiers killing innocent Afghan civilians," said Hua Chunying, China's foreign ministry spokeswoman, when asked about Morrison's comments.

The image posted by her colleague shows people's "indignation," said Hua, speaking at a regular news conference in Beijing on Monday. Whether it will be taken down is a matter between Twitter and the Australian government, she said.

The Afghan government was "aware of a photo showing an Australian soldier's misconduct and has started investigating the case," its foreign ministry said in a statement.

Australia's relationship with China has deteriorated since Canberra called for an international inquiry into the origins of the coronavirus pandemic.

Earlier this month, China outlined a list of grievances about Australia's foreign investment, national security and human rights policy, saying Canberra needed to correct its actions to restore the bilateral relationship with its largest trading partner.
Morrison said countries around the world were watching how Beijing responded to tensions in Australia's relationship with China.

The Afghan government, which is taking part in peace talks with the Taliban as the United States withdraws troops, receives millions of dollars in aid from Australia and also has a growing economic relationship with China, with which it shares a border and whose companies have invested in mining in the war-torn nation.

"The Islamic Republic of Afghanistan believes that both Australia and China are key players in building and maintaining … consensus on peace and development in Afghanistan," the foreign ministry said. "Afghanistan hopes to maintain and strengthen cooperation with the two countries."

In the latest in a series of trade sanctions, China announced on Friday it will impose temporary anti-dumping tariffs of up to 212.1% on wine imported from Australia, a move Canberra has labelled unjustified and linked to diplomatic grievances.

Zhao wrote on Twitter: "Shocked by murder of Afghan civilians & prisoners by Australian soldiers. We strongly condemn such acts, & call for holding them accountable."

His Twitter account had posted the same message, but without the fake image of the soldier and child, on Friday.(source)
You can see the full tweet in its context here before it was modified and the deepfake photo deleted.
There are actually two trends here. The first has been noted- the patterns of Chinese policy throughout the centuries that turns against them in their historical time.
But there is another pattern here that deserves mention, which is that as I have cited before of DeepFakes.
I cannot stress enough the importance of deepfakes, for what began as a small trend for a select group of people is going to fundamentally alter basic, long-standing foundations of evidence in legal cases and has the power to obscure reality about a situation so completely that truth becomes only able to be seen with great difficultly able to be ascertained. It is not a 'may,' but rather a 'will' and 'when' to ask when deepfakes will be used to start conflicts on the grounds of baseless evidence.
This is what one must wonder if China was attempting to do. Was China putting out doctored evidence so to try, in a very poor Chinese sort of way, to justify a kind of political action against Australia, including a possible invasion?
One should not put it past them. Likewise, this is a reason why there is a tremendous amount of dislike for China from not just the Western world, but her neighbors too, because if she is willing to be dishonest in a matter so critical as basic trust between nations by posting a fake photo that arguably could be used as evidence to start a war and then refuses to apologize, how can she be trusted for anything more serious?
The world is watching, and what China did here was not just a mere incident, but she actively, in the proverbial sense, "shot herself in the foot" because who is going to believe her in the future if she claims that something is deepfaked against her, or if she claims something is true and provides "evidence"- who will believe her?
This is not just a mere trend or patterns of history repeating again, but the story of "the little boy who cried wolf" magnified to a national scale, and the consequences will be no less deadly, and just as much magnified many times over.