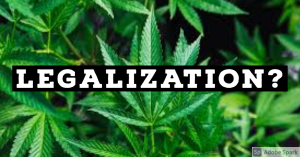 Marijuana is a popular drug with many, but still illegal on the federal level in spite of major changes at the state levels. However, USA Today reports that big changes may be coming as the House moves to vote on the first ever marijuana legalization bill at a federal level.
The Democratic-controlled House will vote on legalizing marijuana at the federal level for the first time in the chamber's history later this month, a hurdle Democrats and advocates are celebrating as Congress grapples with a host of pressing issues before the November election.

House Majority Leader Steny Hoyer, D-Md., said the House would vote on the MORE Act during the week of Sept. 21. The measure, sponsored by Rep. Jerry Nadler, D-N.Y., would remove marijuana from the federal list of controlled substances and expunge some marijuana-related criminal records, though it would still be up to states to pass their own regulations on the sale of marijuana.

"It's about time," Nadler told USA TODAY, calling it a "historic vote" marking the beginning of the end of the federal government's "40-year, very misguided crusade" against marijuana.

Maritza Perez, director of the office of national affairs at the Drug Policy Alliance, a group advocating for the decriminalization of drugs, said her organization was "thrilled," saying the bill would "begin to repair some of the harms caused by the war on drugs in communities of color and low-income communities."

The House's vote comes as views of marijuana have changed in Washington and increased numbers of Americans support the legalization of the drug, whether for recreational or medicinal purposes. And while this bill is likely to fail in the Republican-majority Senate, advocates still saw the vote as a step forward. (source)
It is unlikely this will pass. However, it is a sign of things to come. And once a Democrat is elected president, it absolutely will be raised again.
There is a strong chance that in ten years- by 2030 -smoking marijuana will be legal. Likewise, the trend for other drugs to follow such as mushrooms, LSD, and even cocaine is in the process right now, but just delayed as marijuana is the 'gateway' by which legalization will likely take place.
This will also be a major trend to look for in the future, so regardless of what one thinks about it or does not think about it, the fact is that unless there is a major change, all signs point to this happening.