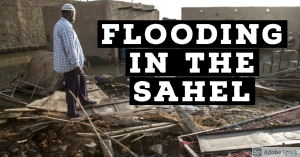 The Sahel region of Africa stretches from Senegal to Cameroon, and is the lands between the jungle and the desert. It is a vast region under the strong influence of the French and increasingly with American military assistance. According to France 24, while the USA is having a bout of severe fires in the Western regions, the Sahel is having the opposite, with instead of fire those nations under a deluge that is displacing populations and causing chaos.
Record floods have inflicted severe damage across the Sahel region in recent weeks, leaving dozens dead and tens of thousands homeless from Sudan to Senegal.

Sudan has been the hardest hit country, with at least 102 people dead and tens of thousands of homes destroyed or damaged, according to the interior ministry. Authorities have declared a three-month state of emergency, and the government has allocated more than 150 million Sudanese pounds (US$2.73 million) to help flood victims.

"There has never been so much destruction," said one Khartoum resident.

In Niger, more than 60 are dead and many more displaced. Families in several neighbourhoods of the capital Niamey were forced to evacuate on Sunday after a levee on the right bank of the Niger River burst following heavy rains.

In Senegal, a seven-hour downpour left the area surrounding the capital Dakar submerged for days and killed six people. Senegalese President Macky Sall activated an emergency aid plan in response to what the country's Water Minister called "exceptional rainfall".

Most recently, floods killed at least 13 people and injured 19 others in Burkina Faso following days of heavy rains across the country, including the capital, the government said on Wednesday.

Experts say deforestation along riverbanks has made flooding worse throughout the Sahel region and around the world. Forests prevent soil erosion and act as a buffer against flooding, while barren land is less able to hold water from heavy rains. (source)
It will be important to watch migration in this case because major natural disasters cause migration. One can see this right now as many people, motivated not just by politics but fires are moving to Arizona, Colorado, Idaho, Oklahoma, and Texas in large numbers to a point that it is causing clashes between the "natives" and the "migrants"- California migrants for one.
If things such as fires can cause migration, why not flood? With so many people migrating from West Africa to Europe, what is to say that the flooding will not drive more migration to Europe? Every argument would suggest that it is a possibility for this to happen.
It will be interesting to see if there is another wave of migration to Europe due to this, and likewise, to see what influence this will have on migration and subsequently, a rise in nationalism in Europe.