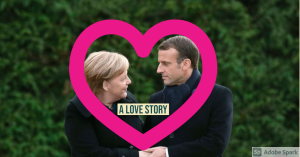 There is a lot going on right now in Europe between Russia and Germany as the two historical powers are making attempts to exert their influence on the European continent once again. According to Reuters, there are now discussions coming from Merkel's administration about possible sanctions on a Russo-German gas line.
Chancellor Angela Merkel does not rule out imposing sanctions on a pipeline set to bring Russian gas to Germany in response to the suspected poisoning of a Kremlin critic with a Soviet-style nerve agent, her chief spokesman said on Monday.

Merkel is under mounting pressure from members of her conservative party to suspend the Nord Stream 2 pipeline, a huge project to double Russian gas exports to Germany that is more than 90% complete and due to start operating from early 2021.

German Foreign Minister Heiko Maas said in remarks published on Sunday that Russia must help clear up the circumstances around the poisoning of Alexei Navalny or face the possibility of Germany withdrawing its support for Nord Stream 2.

Asked on Monday if Merkel agreed with Maas, who is from her junior coalition partner the Social Democrats (SPD), on the pipeline, her spokesman Steffen Seibert said: "The chancellor shares the remarks made by the foreign minister."

It was the clearest indication yet that Merkel could take action against the pipeline, which she has previously supported.

However, Seibert also said it was too early to decide on whether to impose sanctions against Russia over the poisoning.

Navalny, a critic of President Vladimir Putin, was airlifted to Germany for hospital treatment after falling ill on a Russian domestic flight last month. Germany says he was poisoned with a Novichok nerve agent similar to the one used in an attempt to kill a former Russian spy in England two years ago.

Moscow says it has seen no evidence that he was poisoned.

It may prove difficult to halt the Nord Stream 2 project, which is led by Russia's Gazprom with Western partners, so late in the day.

The project has split the European Union, with some member states such as Poland saying it will increase the bloc's energy reliance on Russia and undermine Ukraine as a transit state for Russian gas pipelines to Europe.

The United States, which is keen to increase liquefied natural gas (LNG) sales to Europe, also opposes the pipeline and has targeted some companies involved in it with sanctions. (source)
There is a lot to watch in this. However, while the world is focused on Russia, there is another power that is now being discussed, but which I have mentioned in the context of such things, and that is France.
France has spoken up, but she has been uncomfortable quiet in comparison with the larger chain of events. While a lot o people in the US so it seems, have a low opinion o the French, seeing them as a weak and cowardly people, such is not the case. France has the fifth most powerful military in the world, the third largest navy, and is a very silent unclear power, having the third largest supply (it is said) of nuclear weapons for a country. Remember also that France's wealth comes from the fact that she controls through the Bank of France the currencies for the West and Central African Francs, which with the exception of Ghana, Nigeria, Equatorial Guinea, and Liberia, encompass about all countries from Senegal to Congo.
People wonder about a new Molotov-Ribbentrop type agreement, which Ted and I have said is a possibility. However, what about a new Franco-German union, moreso than what existed during the Second World War?
Russia is a world power, but she is very weak. France and Germany have their problems, but like the US, their issues are more manageable, and they have actual economies and wealth sources they can draw off of. Russia does not have this, and selling raw (mostly petroleum or timber) materials and exporting cheap weapons can only work so far for an economy. She is moving her resources and militarizing the Arctic regions because, it seems, this may be her last real chance at defending herself if attacked or in a war.
But France and Germany? A united front with them against Russia would likely mean a Russian defeat, and if Turkey is factored into the situation, a disaster for Russia.
And the US? It is not a surprise why the US has, quietly, moved very close to France, because she also knows that if France and Germany united, and they went with Russia against the US, she would be forced to sit out of any European conflict.
So when one looks at the situation with the Russian gas line, it is a lot more than just a European conflict with American involvement between Germany and Russia. It may be a lot bigger, with even more chess pieces moving unbeknownst to the public and kept invisible from open examination because of the serious and major possible implications it would have. Considering too how many gas lines, if they do not go through Italy, go directly from Africa under the Mediterranean to France before the rest of Europe, it is not as though with French gas the Germans would be in short supply, at least long enough for them to possibly take the Caspian Sea basin.
The events of the next decade will play a critical role in shaping the future, and it will be interesting to see how the events now will effect the coming policy decisions.