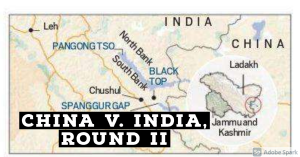 The third and fourth military superpowers in the world are exchanging threats again over border disputes as the AP reports that China and India appear to be preparing to clash over a geopolitical crossing in the disputed Ladakh region, which is a village called Chulshul.
India and China accused each other on Tuesday of making provocative military moves and firing warning shots along their disputed border despite talks on ending the escalating tensions.

China said Indian forces on Monday crossed into territory it holds and fired warning shots at a Chinese patrol in what it called a violation of their agreements. India denied that and said Chinese soldiers tried to surround one of its forward posts in a "grave provocation" and also fired warning shots.

China described it as the first exchange of fire between the countries in 45 years.

The nuclear-armed rivals have been engaged in a tense standoff in the cold-desert Ladakh region since May, and their defense ministers met Friday in Moscow in the first high-level direct contact between the sides since the standoff began.

China's western military command said the incursion occurred Monday along the southern coast of Pangong Lake in an area known in China as Shenpaoshan and in India as Chushul. The two countries' local military commanders have held several rounds of talks to defuse the tense standoff.

After shots were fired, Chinese forces took "necessary measures to stabilize and control the situation," the command said in a statement citing spokesman Zhang Shuili. It demanded the Indian forces withdraw and investigate the move to open fire.

Chinese foreign ministry spokesperson Zhao Lijian repeated that Indian troop were the first to shoot. He said it was the first exchange of fire between the sides since 1975, despite the increasing tempo of recent clashes.

"We, the Chinese side, has been been stressing repeatedly that the two sides should peacefully settle our differences through dialogue and consultation. Confrontation will not benefit either side," Zhao told reporters at a daily briefing.

Col. Aman Anand, an Indian army spokesman, said China continues "provocative activities to escalate" tensions and called the Chinese military statement an attempt to mislead domestic and international audiences.

Anand said the Chinese soldiers tried to surround an Indian military post and fired a few shots in the air when the Indian soldiers "dissuaded" them. He said Indian troops "exercised great restraint."

He accused China's military of "blatantly violating agreements and carrying out aggressive maneuvers while engagement at military, diplomatic and political level is in progress."

There was no word of casualties on either side.

Late last month, India said its soldiers thwarted Chinese military's moves "to change the status quo" in violation of a consensus reached in past efforts to settle the standoff. In turn, China accused Indian troops of crossing established lines of control.

The activities last month and on Monday were alleged to have occurred on the southern bank of Pangong Lake, a glacial lake divided by the de facto frontier and where the India-China face off began on its northern flank in early May.

The standoff escalated to a nighttime clash on June 15 that was the deadliest conflict in 45 years between the countries. According to Indian officials, Chinese troops atop a ridge at the mouth of the narrow Galwan Valley threw stones, punched and pushed Indian soldiers down the ridge at around 4,500 meters (15,000 feet). India said 20 of its soldiers were killed, including a colonel. China did not report any casualties.

The disputed and undemarcated 3,500-kilometer (2,175-mile) border between India and China, referred to as the Line of Actual Control, stretches from the Ladakh region in the west to the Indian state of Arunachal Pradesh in the east. China also claims all of Arunachal Pradesh as its territory.

The Asia giants fought a border war in 1962 that also spilled into Ladakh and ended in an uneasy truce. They have been trying to settle their border dispute since the early 1990s, without success.

India unilaterally declared Ladakh a federal territory and separated it from disputed Kashmir in August 2019, ending its semi-autonomous status. The move further strained the relationship between New Delhi and Beijing, which raised the issue at international forums including the U.N. Security Council.

In a symbolic move amid soaring tensions, India has banned scores of Chinese-owned apps, including TikTok, citing privacy concerns that it said pose a threat to India's sovereignty and security. (source)
From what I have been able to find, this Chushul area has bee a site of contention before between China and India due to its strategic locations.
Chushul is located south of Pangongtso in eastern Ladakh and is made up of high, broken mountains alongside multiple passes as well as the Chushul valley. It has an important airstrip and was fought over during the 1962 War with China. From a military viewpoint it appears to be one of five places where Chinese and Indian military personnel overlap for crossings as well as meetings between the two nations.
Chulshul is not simply a small village. It is a critical strategic and tactical point due to its location and terrain, which make it a centre for logistics. Thus he who controls Chulshul has easier access to either China or India, depending on the side.
So far, it seems that Indian troops have secured the ridgeline in Chulshul, thus it allows them to dominate the Chushul bowl on the Indian side, and Moldo sector on the Chinese side, which also gives them a sight to the Chinese-controlled Spang Gur Gap, which was a site of Chinese militarization in the 1962 War.
What it appears that India has done, if this was a game of poker, was to take a "bargaining chip" away from China and keep it for herself so that she can attempt to force Chinese de-militarization in the area. Likewise, if China controlled it, she could do the same to India for the same area, and it would also give her direct road access to Leh, the capitol of Ladakh, and thus the possibility that China might be able to seize Ladakh, which would also jeopardize her control over Jammu and Kashmir. The fact that the region gets excessively cold in winter and becomes difficult to pass also makes it important, as it can allow a military to arguably, using the weather conditions, 'freeze out' any enemies.
There is no good side here. China is evil and India is openly promoting its particular version of National Socialism. Rather, what we are seeing are two giants, both known for their large populations and their respective propensities to incompetency, start to argue.
It is also why the US has been getting very close to India, since the US seems to be intending to use India to keep China occupied in her southwest regions while Japan and the US tear up China in the east, Southeast Asia rebels against China, and the Russians sit back and do nothing because they are afraid of Chinese expansionism into her Siberian territories.
What we are witnessing right now with this is a buildup to a third world war, where China will likely suffer a lot, and these are just the beginning parts of it.