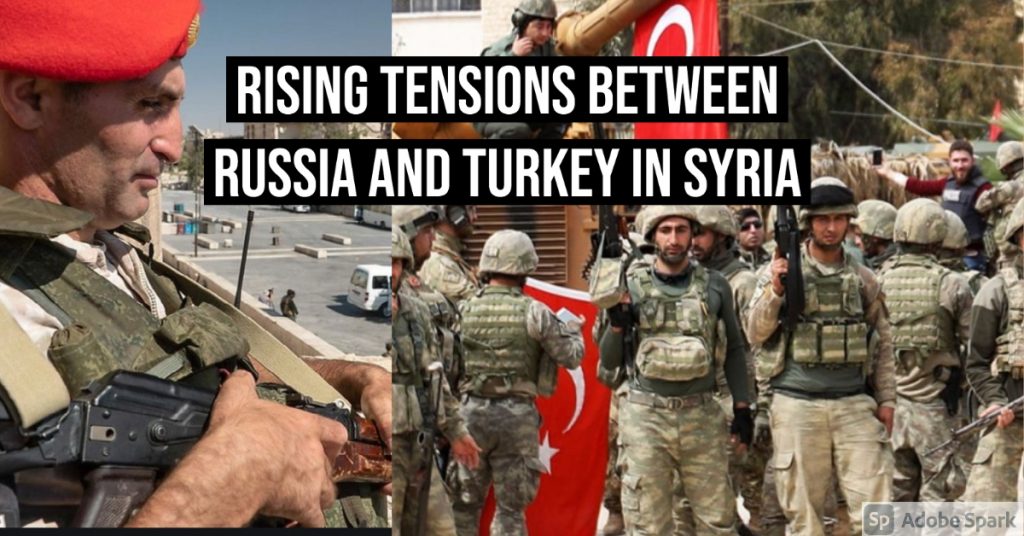 By Theodore Shoebat

Could Russia and Turkey end up fighting over Syria? There have been recent events that indicate obvious growing tensions between the two countries. There were protestors who attacked Turkish troops recently, and these protestors were backed by the Syrian government which is allied to Russia but is an enemy to Turkey and has demanded that Turkey leave Syria. There are Turkish backed rebels who are fighting the Syrian government. We have an object that the Turks want to remove — the Assad regime — and it is this very object that is being backed by the Russians. So, how can Turkey and Russia fully cooperate in Syria when they have radically different plans for Syria, with on wanting to remove the government and the other wanting to maintain it? Tensions are high between Russia and Turkey, leaving one journalist in Turkey, Levant Kemal, to affirm that we should not be shocked if hostilities spark in October:
"Russia may seem to be comparatively silent, however it is militarily ready for an operation. It could begin one at any moment … Tensions have increased since the talks in Ankara. Regime bombardments have become routine. I wouldn't be surprised to see hostilities begin again in October in Jabal al-Zawiya, which is crucial for the defence of Idlib city."
The intensifying rift between Turkey and Russia could be seen recent talks between Moscow and Ankara. On September 16th, Russia requested that Turkey do away with its checkpoint in the Syrian-government controlled places within Idlib's de-escalation zone, reduce its number of troops, take away its heavy weapons in the region, and to withdraw armed rebel forces from the area of the M4 highway. The Turks countered by demanding that Syria and Kurdish groups withdraw their troops from Manbij and Tel Rifaat and relinquish control over these regions to Turkish forces. Syria, expectedly, rejected such demands. This rejection coincides with Russian policy, since Manbij is under the control of not just Syrian troops but Russian military police who is conducting patrols in the city's streets. Also, just recently Russian fighter jets bombed rebel positions on the outskirts of Idlib, another show of aggression against Turkey by Russia. A source told Middle East Eye that the reason why talks between Turkish and Russian officials failed was because "the Russian bear" wouldn't agree to anything reasonable. "They won't listen," the source said. Russia did its bombing operation to attack rebels who are a threat to Russian troops (the Turks have called this a pretext that the Russians are using to justify their military expansion). 
In the midst of such tensions, crowds of protestors attacked Turkish troops in Idlib, as we read in al-Monitor:
In Idlib, crowds organized a series of protests against the Turkish military presence in the areas controlled by the Syrian government troops including in Morek and Surman, demanding Turkey to pull out from Syria completely.

The Turkish Defense Ministry said, "Some civilian-looking groups led by [the Syrian government gathered around the Turkish] observation points 3, 4, 5, 6, 7, 8 and 9 in the Idlib de-escalation zone." The protesters attacked observation post 7 before being dispersed by the Turkish forces, the ministry added in a tweet.
The same al-Monitor report speaks about how Turkey warned rebels "against a possibility of a new battle in Idlib. Ankara has also intensified the training programs it is providing to the rebels in more than 150 military training camps and reinforced more than 140 positions where the Turkish troops are located." "Turkey is training hundreds of Syrians in Idlib against a possible Syrian regime-led offensive," one Syria expert told Middle East Eye. "Turkey has now established an intensive control in Idlib. Regime forces wouldn't be able to move like they did in March." So Turkey has 150 training camps in Syria for rebels who want to destroy Assad's government, and 140 positions for Turkish troops within the country. All of this indicates that Syria is no longer a legitimate state and the Assad government is no longer in full control of its country as it is being ran by two major powers: Russia and Turkey. Moreover, Russia has continued to maintain some collaboration with Turkey in Syria. In fact, Russia's foreign minister, Sergey Lavrov, defended Russia's pact with Turkey over Syria by arguing that "The government-controlled part of the Idlib de-escalation zone has increased considerably since the signing of the Russian-Turkish agreements."
But, one cannot put his trust fully in diplomacy. We must remember the 2020 Balyun airstrikes in February in which the Russian and Syrian air forces conducted two airstrikes against a Turkish Army convoy, slaughtering around 60 soldiers (and maybe even more), making it the deadliest attack on the Turkish military in Syria. This was an open act of violence against Turkey. So diplomacy isn't exactly to be relied upon in this situation. Turkey is continuing to prepare for more Russian airstrikes."Assad cannot send his air assets anymore," said one expert. "So if you see an air operation, now you know that they are definitely Russians."
The Russians defend their bombing operations in Idlib by pointing to a recent Islamic terrorist organization called Khattab al-Shishani Battalions. Recently, Russian and Turkish troops, while doing their normal patrol on the M4 highway, were attacked by this Islamist group (this led Russia to suspend the patrols). Russia, angered by this, requested that Turkey give up the territory below the M4 to the Assad government. Since Assad's government is controlled by the Russians, what this demand really involves is giving the territory to Moscow. It is obvious that there is a struggle between Russia and Turkey over Syria. Perhaps things will calm down, but given the long history of wars between the Russians and Turks, it would not be shocking at all if the countries ever broke out in a war again (it was just a hundred years ago that the Ottoman Empire and Russia were at war).