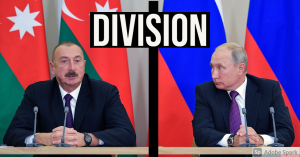 The situation in Nagorno-Karabakh is far from over. While Azerbaijan may have won, Russia's entrance into Armenia is the beginning of potentially something much more serious.
Armenia and Azerbaijan were both part of the Soviet Union until her breakup in 1991. Azerbaijan, a Shiite Muslim nation culturally influenced by the Persians, ethnically influenced by the various Caucasus peoples, and linguistically influenced by the Turks, has since given her full support to Turkey, and she has openly expressed a desire to be annexed by the Turks. Armenia is hated by Turkey, who has made clear with her recent encirclement of Armenia following the capture of Nagorno-Karabakh that by her actions she is preparing to isolate and "finish the job" that she began in 1914. Armenia, however much she does not like the Russians, is also part of the CSTO, or a Russian attempt at her own NATO, and while really powerless, is there to be a thorn in the side of the Turks for the Russians. Meanwhile, Putin has made clear that since he equivocates Russian glory with Stalin and the USSR, his words and actions show attempts to rebuild the Red Giant.
The conflict in Nagorno-Karabakh, with a Russia trying to revive the USSR and an Ottoman ghost attempting to summon herself from the grave of history, sets up a scenario for a clash of major powers, between the first and second largest militaries in Europe and the second and seventh most powerful militaries in the world. Considering how Turkey has NATO and specifically, US and German backing, given that they are the first and ninth most powerful militaries, it has the potential to make any conflict between Russia and Turkey more interesting.
Just hours before a peace agreement was to be signed between Azerbaijan and Moscow, a Russian aircraft was shot down. While the Azeri government has apologized and offered to pay for it amid other concessions, it is being reported by Reuters that Russia is treating it as a case of murder.
Russian military investigators are now treating the Nov. 9 downing of a helicopter over Armenia as "wilful murder", a more serious charge than the previous "death through negligence", Interfax news agency reported on Monday, citing a source.

A Russian Mi-24 helicopter was shot down over Armenia near the border with a region belonging to Azerbaijan, killing two crew members and injuring another, just few hours before a Moscow-brokered peace deal over Nagorno-Karabakh was reached.

Heavy fighting between Azerbaijan, which has the political backing of Turkey, and ethnic Armenian forces over the mountainous region had been raging for six weeks at the time of the incident.

Azerbaijan's Foreign Ministry said Azeri forces shot down the helicopter by accident, expressing apologies to Moscow and a readiness to pay compensation.

Interfax said on Monday, citing the source, that a case had initially been opened into a potential infringement of flying regulations that had resulted in deaths through negligence.

The reported switch to a murder charge, which could lead to a sentence of life imprisonment for those held responsible, may complicate relations between Moscow and Azerbaijan.

The conflict has tested Moscow's influence in the South Caucasus, a swath of the former Soviet Union it views as vital to defending its own southern flank. (source)
While one cannot confirm anything, one must say that the timing is highly suspicious, especially since portraying Azerbaijan as the 'aggressor' may be a card Russia tries to use to force influence into that nation, up to and including potentially declaring war against her. However, the main target would not be Azerbaijan, but Turkey, since Russia wants what she considers "her territories" from the USSR back, but also to prohibit further expansion of a nascent Ottoman Empire that through Azerbaijan would have control over the oil sands of Baku and given new construction developments, passage into Central Asia, another bloc of nations under Russian control.
The world right now bears an increasing semblance to the world pre-World War I, where nations were scrambling against each other over small territories, building up troops and with tensions brooding between them, eventually breaking into the First World War. However, the difference was that major technologies then were the machine gun and poison gas. This time it is robotics, artificial intelligence, and computers, which is far more dangerous.
It will be interesting to see where this conflict goes and how Russia responds, given the trends toward war and potentially grave responses from either side.